Travel, Tourism: Is Mexico Safe?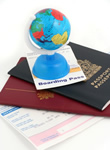 It appears tourism in Mexico is increasing despite the best efforts of the U.S. State Department and the State of Texas to keep Americans from traveling there.
Tour.com's Travel-Intel newsletter has been monitoring "trends in the cruise, hospitality and airline industries, and featured destination close-ups" and what they've found is that tourism to Mexico is on the increase!
Click here to read more in a Marketwire press release.
---