Introducing the Enhanced Drivers License (EDL) for International Travel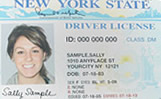 As of June 1, 2009, driving into a foreign country now requires a passport-a setback for some who are not able to afford the cost or do not have the time to wait for the processing. An option that is becoming more and more popular is the Enhanced Drivers License, or EDL. Although currently available only in Michigan, New York, Vermont and Washington; it is gaining momentum at the state level and hopefully will be available for more states in the near future. For Canadian citizens, the EDL is now available in British Columbia, Manitoba, Ontario and Quebec.
The price of $45 for first-time applicants is attractive to prospective travelers who are facing a $100 charge for a first-time passport book. Other benefits of obtaining an EDL are the convenient wallet size card and the fact that it contains the latest security features to prevent fraud and identity theft.
The only drawback of the EDL is the fact that it is only approved for travel by land or sea. The card will not be valid for air travel.
The necessary documents needed to apply for an EDL include: proof of social security number, U.S. Citizenship, identity and state residency.