In Rocky Point Mexico? Try the Tampiqueña at Miguel's Steak and Seafood!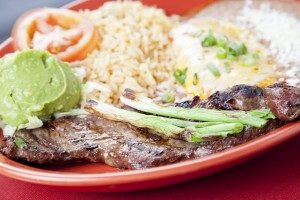 If you are in Mexico, and like Mexican food then you have to go to Miguel's Steak and Seafood in the Penasco del Sol Hotel at the end of Calle 13.I will not claim that I have a "sophisticated palate" but I am not a garbage disposal either. Mexican food is a soft spot for me, and I love me a tampiqueña. It's a steak traditionally served with a side of enchiladas. If the steak is well cooked, and the enchilada sauce is good then you have a bocada celestial (heavenly mouthful). A tampiqueña can be found in the states, but if you hit Rocky Point, go to Peñasco del Sol. Miguels Steak and Seafood is located in the hotel and order a Carne Asada Tampiqueña.
I ordered the steak medium as they tend to be very thin pieces of meat. However, this was a good inch thick, very tender slice of Sonoran beef. At Miguel's the dish is served with Rajas Poblanas (strips of green chile, onion and cheese), a cheese enchilada (the sauce was excellent) and Guacamole. ¡Mua, Esquisito! Didn't really have room for the rice and beans, and since my wife is very particular about her rice and beans I cannot do anything but abstain from commentary.
If you decide to go to Miguel's and aren't up for something a little lighter the Sopa Azteca or their Tortilla Soup was very good. It is a tomato based soup, served with avacado and cream.
As for the Chips and Salsa Appetizer, it was… interesting. The sauce was sweet… almost jam flavored. It made me wonder if it was strawberry based. I asked, and was instructed that it was tomato based… well tomatoes are a fruit, so why not… interesting, but good.  For those not accustomed to Mexican chips, they tend to be thicker and not as salty. So, it wasn't an insane mixture.
Hungry at breakfast time? Hit Miguel's breakfast and try the tamales… might sound weird, but they were sweet. I have traveled all over Mexico and never had the opportunity to try sweet tamales. One morning it was a banana nut tamal, the next it was a pineapple tamal... Everything I hoped they would be.
Let's you think I am plugging Miguel's for pay, I also had their Shimp Enchiladas… not the best. I like Shrimp, I like enchiladas, but I didn't love the mixture.
Bottomline – Miguel's Steak and Seafood has a killer tampiqueña, try it the next time you venture to Rocky Point, Mexico!