Guadalajara International Mariachi Festival
2014 Guadalajara International Mariachi Festival
A great Mariachi event in Guadalajara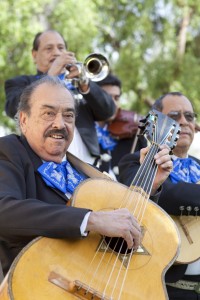 The 21st annual International Mariachi Festival is scheduled to take place, August 28 through September 08, 2014, in Guadalajara, Jalisco, Mexico. There will be numerous Mariachis, from all over Latin America and Europe, performing at many venues around the city, including: the famous Teatro Degollado, which first opened in 1866; as well as a number of area parks, markets, churches, and historic cathedrals. In addition to performances and competitions from hundreds of Mariachis, there will also be gala events, parades and rodeos.
The instruments and origins of Mariachi
When Hernán Cortés arrived in Mexico in 1519, in addition to hundreds of conquistadors, he also brought along some musicians. The instruments played by the musicians from Spain were: the vihuela, a smaller version of a guitar with five strings; the Spanish harp; and a couple of violins. People from Mexico's rural communities adapted the use of these instruments to play their own folk styled music that evolved into the Mariachi style. Early on, the harp was replaced by the guitarró, which is an even smaller guitar-like instrument. By the early 1900s, Mariachi music had evolved to have larger groups of musicians, incorporating additional instruments, such as: the Guitarrón, a guitar-like fret-less instrument with an over-sized body; the Spanish Guitar; Trumpets; and the Accordion. However, today it is not uncommon to see a Mariachi band that includes a Flute, Oboe, Saxophone, French horn, Tuba, or other instrument.
The home of Mariachi music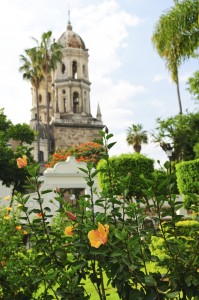 There are many who consider Jalisco to be the birthplace of Mariachi music. Mariachi music appears to have been derived from the older regional folk style, Son Jalisciense, which had its origins in the music that was played by farmers and field workers, as a way to relax after a long day of hard work. Guadalajara, the capital of Jalisco, is recognized as the home of Mariachi music.
Documents you'll need to drive to Guadalajara
If you are planning to drive your vehicle into Mexico, and down to Guadalajara's 21st International Mariachi Festival, be sure to purchase Mexico Tourist Auto Insurance. You will also need to get a temporary vehicle import permit. Additionally, you will need to bring along your passport, so you will be able to re-enter the U.S., after the festival.