First Communion in Mexico: A Rite of Passage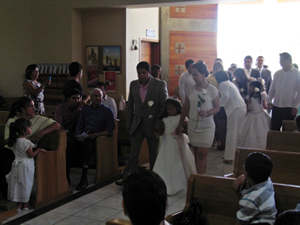 Even though I've lived in Mexico for more than a year and a half now, this country continues to amaze me with new surprises, wonderment and mystery. That's really what being an expat is about. When you live in a country so different from your own culture you can't help but be awestruck by how different things are compared to how they are back home.
Back home for me is the Pacific Northwest United States, and to be more specific I was raised in a very uniquely American religion; Mormonism. Mormons don't practice the first communion really. I was baptized shortly after my eight birthday, and it was sort of an individual event, like a birthday is usually. And I don't really remember there being a lot of festivity and fanfare following my baptism. It was more like "your soul is clean now, so now you have to be good."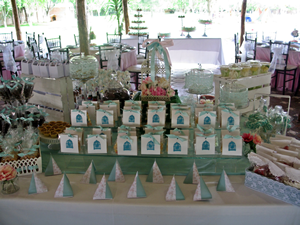 The rite of the First Communion is an event. It's similar in that it's a ritual for children around eight years old. Some might call this the age of reason or accountability, at which a person can tell the difference between right and wrong and make conscious decisions. I don't know if I would say that is true, at least not in the eyes of many courts of law, but I think most people's memories start to really solidify around the age of seven or eight, so that's why cultures have a rite of passage for this age.
Unlike a baptism, a first communion is done in a large group. I went to my second cousin's first communion and she was among several other girls and boys who were all taking the sacrament for the first time on that Saturday. I thought Christian sacrament was always taken on Sunday.
The traditions vary depending on the region. In Switzerland the children wear plain white robes with wooden crosses; in Scotland the boys wear kilts. Here in Mexico the girls wear a white dress that looks sort of like a wedding gown. A veil often accompanies the white dress. The boys wear very handsome suits with ties and dress jackets. In some Latin American countries the boys wear military style dress uniforms, though I did not see that here: onward, Christian soldiers!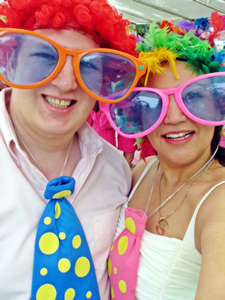 I've never been to a Bar or Bat Mitzvah, but from what I've heard about them they seem to be a big party for the kids. At the communion ritual, after the kids took their wafer and sip of wine, the communion party headed to a very fancy country-club garden. While it was only 11 a.m. there was booze for the adults and bouncy castles for the children. This Saturday shin-dig was bigger than any I had ever seen for anything other than a wedding.
It was a big deal I guess. My wife is pregnant so we didn't go in for the booze cruise, however we did check out some of the kiddy fun. I wasn't allowed into the bouncy castle, but there were boxes of dress-up clothes so you could look like a clown. Girls could get manicures and pedicures. Face painters were painting faces. There was a pony there too.
People in Mexico sure do like to party, and they don't always do it on the cheap either. However, I would imagine that this kind of event would have a higher bill north of the border.