Fiestas del Sol Mexicali Fair
Mexicali's 2014 Fiestas del Sol Fair
The fair is coming to Mexicali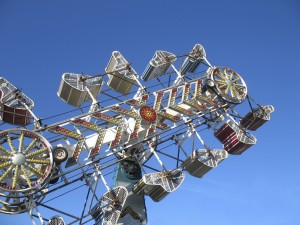 Fiestas del Sol, the annual fair event held in Mexicali, will be happening 26 September through 12 October, 2014. The fair will have carnival rides, go carts, midway games, a petting zoo, arcade games, and rest areas where you can take a break from all the fun. There will be many vendors selling an assortment of products, and you will also find all kinds of food and drink being offered at the fair.
Lots of Live Entertainment
The fair will have an Isla de las Estrellas ("Island of the Stars") concert stage that will feature live performances by Mexican and international artists from diverse genres, including: rock, pop, comedians, and traditional bandas. Entrance to the shows, at the Isla de las Estrellas, is included in the cost of admission to the fair. There will also be ticketed events featuring a number of popular performers and groups at the Palenque ("Palace"), which is located within the fair grounds. The live music shows at the Palenque are often preceded by cockfights.
Mexicali History
Mexicali is located in a fertile valley, in northeastern Baja California, right along the border, across from its sister city, Calexico, California. Mexicali started out as a stop along El Camino Del Diablo ("The Devil's Road"), traveled by conquistadors, and missionaries, passing through the desert that had long been inhabited by the native Cocopah people. The route was used for hundreds of years by explorers, surveyors, miners, and fur trappers. In the mid to late 1800s, a U.S. Mail stagecoach route stop was built at the site, and within a couple of decades, a railroad route had been built. In 1903, after a canal had been cut through the area, Mexicali was founded as a farming community. While agriculture production remains significant, a number of manufacturing industries, such as: automobile, electronic technology, medical device, and metalwork, have become important in the region.
Headed to this year's Fiestas del Sol?
If you plan to travel across the border, to attend the Fiestas del Sol in Mexicali, be sure to bring along your passport, as it is needed to re-enter the U.S. Also, any time you travel outside of your home country, even for a short visit, it's a good idea to purchase international health insurance, to provide coverage for unexpected medical emergencies. If you are planning to drive your vehicle into Mexico, you'll need to obtain Mexican auto insurance coverage, since all U.S. auto insurance liability coverage stops at the border.