Festival De Coahuila: Dinosaurs, Sarapes and more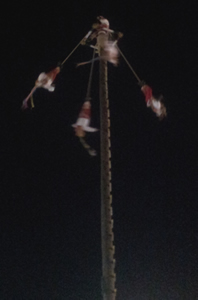 As I entered the Saltillo fair grounds I was taken back to the first article I wrote for MexPro back in July of 2012. It was two-for-one Thursday when I visited with my wife this time, we paid about $2 USD for entrance; and with more chill to the dark night air. As you file into this festival you're led through a bit of a labyrinth of a market before you can check out the main attractions.
The vendors at these fairs offer all sorts of random goods. There are often men from the Caribbean with dread-locked hair selling tie-dye clothing. Pizza and tacos are available for the hungry on the go, as well as a Pan de Corea: a Korean couple operates sweet-fried bread that they cook on the spot with a machine that pours batter into molds and cooks it in an automated assembly line. They were at the fair in the Summer, as well.
This Festival is commissioned by a tourism board trying to get folks to come check out what Coahuila has to offer. Unfortunately for them the weather has kept many fair-goers home this year. For me, though, that meant short lines on the same rides that I waited 30+ minutes for a go in July.
After going through the maze of vendors I was in the main concert area. The band playing didn't have much of an audience, and I was too busy watching the Danza de los Voladores. In this ancient Meso-American tradition five men dressed in native-American style garb climb a 30-meter pole that has a sort of mini merry-go-round at the top. Four ropes are wound up while the fifth man plays a flute, perhaps to bless the Palo Voladores (or Pole Flyers) while they prepare to swing from the top. This old performance art is found in different cultural pockets of Mexico and Guatemala. It's quite popular here in Coahuila.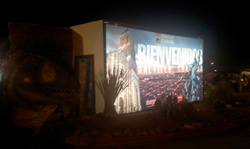 A big promotion for the Festival is an animatronic dinosaur museum. It was mostly for kids to get them interested in the sciences. This state is very famous for its fossilized remains of the pre-historic terrible lizards. The new license plate for Coahuila has a T-Rex head for decoration among the letters and numbers. For treasure hunters, Coahuila has several areas that are great for finding fossils. Perhaps the most popular area for finding your own fossilized treasure would be Rincón Colorado in the Northeast part of Coahuila, which is famous for its remains from the cretaceous period.
I have yet to check out Rincón Colorado, it's on my to-do list. The festival was pretty interesting. I saw another circus; my third in less than a year. The clown act chose me from the audience to do a comedy skit between two big shows. He couldn't have been more than 14 years old. I was impressed that he spoke fluent English when he and his assistants chained me to a board and I pretended to be scared as we made the audience think that I thought knives were being thrown at me.
Another highlight of the Festival De Coahuila was the haunted house. The fair/theme-park scare rides I'm used to usually feature automated robot actors meant to scare six-year-olds, but the haunted house at this fair had many human actors. Me and my wife were given our money's worth when a man with real chainsaw and a fleshy mask (mocking the Texas Chainsaw Massacre film) chased us with a smoking/revving chainsaw.
If you're near Saltillo, this fair goes until the 17th of March. You should definitely visit!