February 2014 Events
Día de la Candelaría
Nationwide
February 2
The Mexican people celebrate the end of the religious calendar and Christmas holidays by dressing up baby Jesus likenesses and blessing them at church.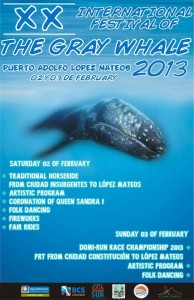 20th International Festival of the Gray Whale
Puerto Adolfo Lopez Mateos, Baja California Sur
February 2 - 3
Celebrate the arrival of the Gray Whales to Baja California Sur with whale watching tours and education, artwork, fair rides, fireworks, folk dancing and more.
Día de la Constitución
Nationwide
February 3 (first Monday in February)
This National holiday the constitution of 1917, written after the Mexican Revolution.
Carnaval
Various
February 6 - 12
Festivities that lead up to Ash Wednesday.
Carnaval Cozumel
Cozumel, Quintana Roo
February 6 - 12
Since 1908 Cozumel has celebrated Carnaval, the island's pre-Lenten festival. carnaval.cozumel.gob.mx
207 Miles
Peoria, AZ to Rocky Point, Mexico
February 8 - 9
207Mile charity ride, a two-day cycling event from Peoria, AZ to Rocky Point, Mexico on February 8th and 9th, 2014. www.207miles.com
Día del Amor y la Amistad (Valentine's Day)
Nationwide
February 14
Mexico celebrates friendship, as well as relationships on Valentine's Day with gifts & flowers.
Medio Maraton Guadalajara
Guadalajara, Jalisco
February 16
The annual half marathon takes place through the streets of Guadalajara. http://www.impactmagazine.ca
Festival de Cine de Todos Santos
Todos Santos, Baja California Sur
February 20 - 28
Presented by the Hotel California. www.todossantoscine.org
Día de la Bandera
Nationwide
February 24
Local celebrations commemorate the Mexican Flag.
San Pancho Music Festival
San Francisco, Nayarit
February 28 - March 2
This festival that began in the back yard of local resident features performing artists from the region, as well as musicians from the United States, Canada, and Latin America. The fun & music take place between 5pm and 11pm each day.
sanpanchomusicfest.wordpress.com