Family Planning and Long Term Living in Mexico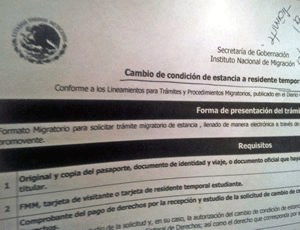 It seems like every thing I read about Mexican immigration law is inconsistent. I recently was at an immigration office here in Saltillo investigating how I can obtain an FM2 or FM3, so I can apply to get my wife U.S. residency. We just found out we have a baby on the way and want to birth our child in a U.S. hospital without having any problems at the border. These are the kinds of things that a first time dad/expat has to think about.
One thing we know for sure is that we want our child to have U.S. citizenship without having any red tape or big fees attached. Simply put, a U.S. birth certificate is worth more than a Mexican one. If both parents are U.S. citizens and have a child abroad the laws are simpler. If just one parent is American but married to a non-American, it's a bit more complicated, so much so that I will need to talk to consulate clerk before I'm really sure how to go about it. At least we are married though, because unmarried parents have more red tape.
Speaking of FM3s and FM2s, I've been informed by Mexican immigration that these no longer exist. Well...they've had their names changed. There are a a whole bunch of different visas you can acquire. If you're offered work in Mexico by a Mexican company they can sponsor your temporary work visa. Young people who wish to study have a special temporary visa. You can even work with a student visa so long as you pay a 200 dollar fee. The laws include all sorts of fees.
I've read about non-immigrant visas that allow you to live indefinitely in Mexico if you receive a pension (or something similar to a pension) that is equal to about $1,200 U.S. per month. I read that this law was updated to require something around double that pension, and you also need to have something like a hundred grand sitting around in your bank account, and you have to own Mexican properties and provide at least five Mexican nationals with full-time employment.
I'm definitely not in the above category. I want to have my permanent residency here simply because I'm bound by blood. For those of us with Mexican family (or a spouse) we get a special category. I don't have piles of cash to invest in Mexican industry or to attend a prestigious Mexican university, but I do have a Mexican wife.
For us romantic expats, the official Mexican immigration form says that it costs about three thousand pesos per year for temporary residency, on top of all the paperwork and passport-style photos that need to be provided.
I've been told that after five consecutive years of temporary residence you can apply for permanent residency and citizenship beyond that. It's a ways away, but my step-father did it in the U.S. and I can do it here. I just hope that the bureaucratic processes develop faster than the embryo in my wife's womb.