Expat Back in the US: Part 1
I've just begun a month-long vacation back to the US, staying with family near Olympia, Washington. I've been living in Mexico for more than 20 months and it's become my home. I didn't realize how much I would miss my life south of the border; here are some differences I noticed very quickly.
As soon as I got to the port of entry, after flying into Dallas, I immediately noticed how much kinder and warmer Mexicans are.
Then there's the food. The stuff I consume in Mexico, for the most part, consists of fresh and natural groceries, and meals that were handmade. When I stopped off for a personal pan Pizza at the Dallas airport, it was delicious and greasy. Something I had missed, though my colon didn't miss it. All the preservatives and the mechanical processing of food in the US makes it less expensive and gives it a longer shelf-life, however I don't think it is made to please the human digestive system.
In Mexico, fast food places like McDonalds and Carl's Junior are around, however they aren't quite as popular as they are in the US. The reason is because in Mexico there are far cheaper alternatives that are healthier, tastier and more filling than fast food.
Instead of paying ten bucks for a burger and fries that will hardly fill you up, you can get a healthier plate of tacos or tortas. And that little taco place likely got their ingredients, such as fruits, vegetables, meats and tortillas from the local city markets. This method is a cheaper, older way of doing things that is still done in Mexico.
The fast food restaurants in Mexico have to import all of their food from processing plants that are likely in the US, and so they have to pay an import tax or tariff, and that drives the prices up. My stomach is beginning to adjust to the gringo diet for now.
I'm still happy to see similarities between Mexican culture and North American customs. During this month of July, I won't be in Mexico, however my wife is and she is taking photos for me.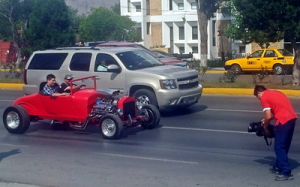 This week's photo is from an annual classic car exposition that took place during our 4th of July weekend, in Saltillo, Mexico—where they don't celebrate the 4th. Presented for the public to enjoy were more than 150 cars dating from the 1930s up to 1982. Some of the classic car owners talked about how maintaining a classic car is 10-times more work than most any other hobby. I was sad I missed the event, but it makes me proud to see that such an originally North American pastime has made its way south. I remember seeing classic car expos in Shelton, Washington, every year during the June Forest Festival.
I wish I could go back to Mexico right now because I miss my life there and, of course, I miss my wife.