Excursion to Puebla: Part II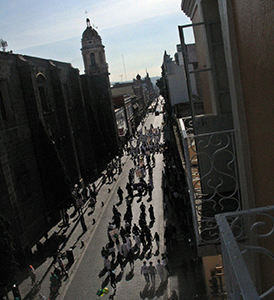 In part one of this series I left off after my first 24 hours. It was an experience not unlike visiting a foreign country. And that's what is really amazing: I've been living in Mexico for more than a year, and one region can feel like a completely different country compared to another region.
Mexico is far different from the US with our standardized interstates and suburban sprawls that have familiar eateries and retail stores. The differences between northeast and central Mexico are endless: from the Spanish accents and vocabulary, to the food, and especially the architecture.
My Poblano (or Pueblan) experience in one word: churches. From my hotel room on the fourth floor in the central commercial district of Puebla City, (or Puebla de Los Angeles, capital of the State of Puebla) the things that stood out the most were the crosses of cathedrals on the skyline.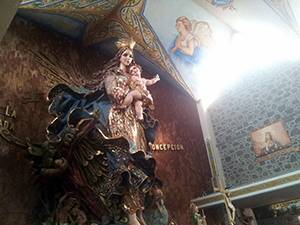 From the inside, these churches were breathtaking. Vastly spacious domes with chiseled angels and saints, surfaces hand painted and gilded in real gold. While Mexico no longer has an official religion, it's easy to see how important faith was to the Spanish Empire during the colonial years of New Spain in Mexico.
Before the Spanish came to the Americas, the valley where Puebla is now located was set aside for the Flower Wars: conflicts between the Cholula, Tlaxcala, Tepeaca and other peoples. A Spanish clergyman saw the need for a hub between Mexico City and the eastern port of Veracruz, and in a dream he saw a group of angels descend from heaven and trace out the city. That's what gives Puebla its nick name the city of angels. It was a planned city, set forth by the Spanish municipal standards, thus it doesn't have much pre-Columbian tradition. However, there's heaps of culture here. Heck, three days in a row I woke up to parades and marching bands passing below my hotel balcony.
The valley here is quite the vista. In this part of Mexico there are often hills that poke out here and there, often with a church posted up top. On the horizon is Popocateptl, an active volcano that seems to always be fizzling and smoking. During my stay, news agencies reported video images and speculation of an unidentified flying object that flew into the volcano; it looked like a fast moving rod, and many experts thought it to be a camera malfunction or a hoax.
I didn't only visit Puebla City during my stay. I saw many of the smaller cities and towns throughout Puebla State as well as the State of Tlaxcala, a bordering central Mexican state. Unlike in the north, I didn't see patrolling military convoys. I didn't hear any explosions or gunshots. There were American and European tourists all over the place. There are also international colleges, such as the University of the Americas in Puebla, which teaches courses in English. Half of the students there are gringos.
If I had to recommend a site in particular, one would be the small hamlet of Chignahuapan in northern Puebla State. There I had the opportunity to see an amazing site, the Basilica of the Immaculate Conception. I'm not religious, but this site held some significance even to me. People from far and wide come to this temple to ask for a child, and many believe that it has the power to grant fertility to the infertile.
That alone is reason to visit this part of Mexico. It's a land where people still believe in miracles.