Excursion to Puebla: Part I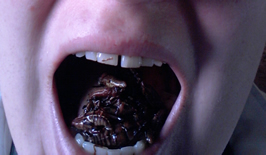 It's a surprise vacation. My wife bought the tickets and reserved the hotel. I had some reservations myself about whether I would be going or not. But where and why? Puebla, the capital city of a central Mexican state by the same name; for my niece's baptism.
My new family is very close. So many of them were at my wedding, I couldn't turn down being present at the baptism, and I'm always up to taking in some culture. I only arrived last night, and I've taken in quite a bit of culture, and I've even eaten some grasshoppers.
But let me start from the beginning. It was my first time taking a plane on a Mexican airline. The liner, Interjet, was pleasant. Free beer is a rare treat; I enjoyed a complimentary Corona sitting next to my wife. I felt at home since everything on the plane was written and spoken in both English and Spanish. Comforting for American travellers and a nice learning tool for a growing Spanish speaker.
The flight was from Monterrey, which is the largest city in northeast Mexico, just a couple hours from Loredo, Texas. Our flight destination was Mexico City, or el Distrito Federal (D.F. being the shorthand version).
I had never been to Mexico City. The stories I had heard seemed to be true. It is a people explosion. Everything moving, an urban sprawl sprawl of skyscrapers on all horizons, 573 square miles of commerce and culture mushed together onto the site of the ancient Aztec city of Tenochtitlan. At nearly 9 million, it's the largest Spanish speaking city in the world, and it's metro area consists of more than 21 million, making it the largest metro area in the Western Hemisphere.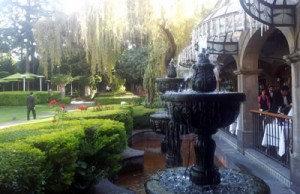 From the airport my in-laws brought us to a high-class restaurant. El Antigua Hacienda de Tlalpan is by far the classiest place I have ever had a meal. It's central courtyard is a free roaming sanctuary for peacocks and swans that are as tame as they are beautiful . While we waited for our meal, we explored the grounds. The staff was preparing to host a wedding. The main feast room had a painted glass sky light that gave it beauty beyond imagination. The architecture dates back to 1837, and the walls are decorated with renaissance art. For about $14 USD per person, I felt like I was putting on the ritz with a working persons pay.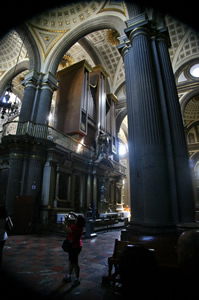 After the meal we took to the highway to our destination city of Puebla, also known as Puebla de Los Ángeles. The urban sprawl between the two cities seemed seamless However there is a separation between the two metropolises, consisting of conifer forests. Yes, though it is far south enough to be nearly tropical, the elevations of D.F. and Puebla are more than 7,000 feet, or about a mile and a half above sea level. The nights are cool year round.
So here I am at my hotel. My balcony view is a vista of cobblestone streets, 400-year-old architecture and countless churches and cathedrals that look and feel like the Vatican. In fact, there is a church for each day of the year: 365 of them.
So far today I've seen a mummified saint and eaten a bag of fried grasshoppers, (called chapolines) from a street vendor. The grasshoppers taste like roasted soy beans, that is once you get past the texture of the carapaces and legs. The churches
I still have much to embark upon; I've just begun to see this part of Mexico.