ENVIVA story - CHIHUAHUA SALVAJE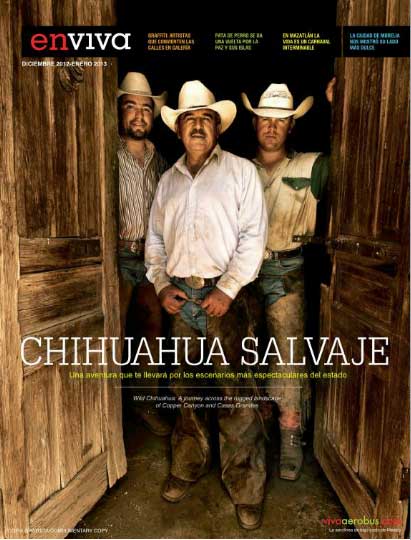 An Eco ranch story about Rancho Feliz in Chihuahua Mexico, written by Mexpro.com's friend Raechel Running for ENVIVA Magazine, for Mexican Airlines Volaris, with a readership of 440,000 was published this past December 2012.
Running had provided images for ENVIVA magazine two years ago for a story on the Mata Ortiz potters. The editor, Jesus Huarte, contacted Running in August, inspired by her photographs of ranch life from the region, he remembered from her image submission. The cover story can viewed with the following links.
http://www.ink-live.com/emagazines/enviva-magazine/1249/december-2012mobile/
http://issuu.com/rmrunning/docs/enviva-rrunning-chihuahuasalvaje
In crafting this story Running hopes it will inspire new visitors to come learn more about the stewardship and diverse history of the Chihuahua region.
Running would like to express her gratitude for the invitation kindness and inspiration provided by Spencer and Emi MacCallum who provided her an extended invitation to be their artist in residence at Casa Azul. Running describes the experience as having changed the course of her life and photography "and will remain a cornerstone". Says Running, "Not a day has gone by that I awake or go asleep, or look at the images, and reflect on all the wonderful people and stories and that continues to color my world and inspires me to share the love of Chihuahua and the borderlands."
We are happy to have Raechel Running as a Chihuahua, Mexico correspondent and are always thankful for her amazing photographs and stories of her adventures helping the people of Mexico.