Top Mexico Vacation Destinations You Can Drive To
Warm sunshine, delicious food and a rich culture are just a few of the things you can expect to enjoy during a trip to Mexico. In fact, many wonderful vacation spots are located just hours away from the U.S. border. Couples, families, retirees and those on a budget can easily find the right fit. Once you know what each region has to offer, you'll definitely want to plan your next getaway.
San Carlos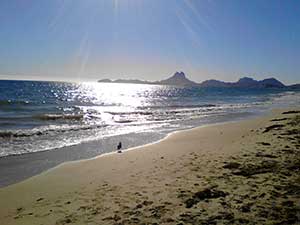 Located along the Sea of Cortez, surrounded by deserts and low-lying mountains, San Carlos is considered one of Northern Mexico's most popular seaside communities. Beaches and marinas abound, and the temperature is mild most of the year. Rain is rare and it never snows. Snorkeling, hiking, horseback riding and deep-sea fishing are some of the more popular activities.
San Carlos is especially popular in the winter months, as "snowbirds" -- Americans and Canadians looking to escape the cold -- flock there, creating a seasonal community great for retirees. Affordable accommodations make it attractive for those on a budget too.
Visitors heading to the area usually cross the Arizona-Mexico border in Nogales via Exit 4 on Interstate 19. Toll booths are located at both Nogales and Hermosillo, so be sure to have at least 600 pesos on hand (USD is no longer accepted). It's 250 miles from Nogales to San Carlos.
Guadalupe Canyon Oasis
This serene and secluded off-the-beaten-path retreat is a paradise in the desert, great for couples, families, or groups. Enjoy stunning sunsets and sunrises while surrounded by palm trees and soaking in relaxing hot springs.
Guadalupe Canyon's location in the rugged Northern Baja mountains, also makes it ideal for adventure tourism. Take a scenic hike through deep canyons or do some rock climbing. Later you can settle into camp and indulge in a private hot tub with a view of the stars.
Take I-8 W, if you're coming from Arizona, and cross at the Calexico/Mexicali border. The toll route through Tecate is the most direct route, if you're coming from San Diego, and includes rock garden scenery. Guadalupe Canyon Oasis is only 140 miles from San Diego.
Chihuahua, Chihuahua
The largest city in the state of the same name has everything from beautiful flora and fauna to cathedrals and world-class museums, making it the perfect destination for families. Children are sure to enjoy the Museum of the Chihuahua Desert, which features the geographic region's paleontological history and inhabitants (including dinosaurs) all the way back to the Ice Age.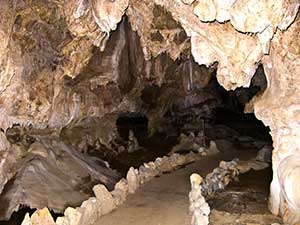 Adventure seekers will want to explore the striking landscapes of El Pegüis Canyon. Once there, take a boat ride through narrow canyons with towering 1,100-foot walls.
Located just 20 minutes from downtown are the 8 million-year-old Nombre de Dios caves, featuring impressive stalactites and stalagmites.
Driving from El Paso to Chihuahua is easy. Use the El Paso Zaragoza border crossing, paying the toll and then take the MEX 45 straight to Chihuahua. The distance is just over 230 miles.
With a wide variety of natural beauty and cultural attractions, Mexico has something for everyone. Best of all, you're never too far from home; it's easy to get there and back.