Dia de Los Muertos 2013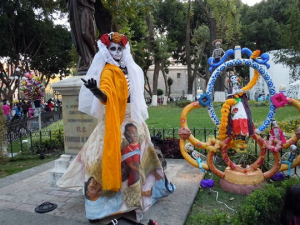 I always look forward to celebrating the Day of the Dead in Mexico. Dia de Los Muertos 2013 will be my third time experiencing the holiday while living south of the border. The reason I like it so much: there's nothing really like it in North America.
Sure, I miss Halloween. I can't wear a Darth Vader costume to celebrate the two days of the dead, which are celebrated in Mexico on the 1st and 2nd of November. However, I can wear a funny costume on the 31st and go to a costume party, since the pre-Christian, unholy day of Halloween is making its way south of the border. Halloween is slowly undoing the effects of the Spanish Inquisition (The Tribunal of the Holy Office of the Inquisition established in 1478 by Catholic monarchs to maintain Catholic orthodoxy throughout their kingdoms), which molded Mexico's culture until its independence from Spain in 1812.
Mexico is still plenty Catholic. The 1st and 2nd of November are also Catholic feasts (known as All Saints' Day and All Souls' Day respectively). These days are for revering the dearly departed saints, known and unknown, as well as the commemoration of all faithful departed Catholics.
Before Columbus came to the New World, the Aztecs partied for an entire month (starting toward the end of August, the 9th month on the Aztec calendar) to celebrate children and to honor the lives of the departed. The goddess Mictecacihuatl, also known as "The Lady of Death" was the matron of the month's processions.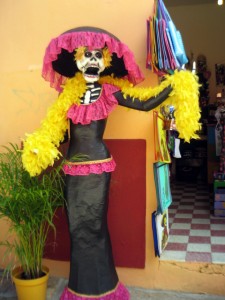 In modern Mexican culture, the lady of death is related to an early 20th century cartoon character (known as "La Catrina") created by Mexican artist Jose Guadalupe Posada. You may recognize her in Dia de Los Muertos arts and celebration as a tall, skinny, "Nightmare Before Christmas" style skeleton in clothing from the early 1900s.
It's seems eerie to a modern North American that the Aztecs celebrated the life of children and the death of loved ones during the same time period. Life and death are iconic symbols that have caused admiration, fear and uncertainty for us humans throughout history. Various Latin-American cultures over the years have developed beliefs about the goddess of death that have successfully developed into a series of rituals and traditions to worship and honor Mictecacihuatl, to invoke fear of her, or even to mock her.
Last year, my English students that I taught at a private middle school had to make an altar, as it's their nation's heritage and thus required curriculum: it's not considered a religious holiday, but rather a national one. An Altar de Muerto is a very recognizable image. It's basically a dressed-up table that's been devoted to a departed loved one, whether a family member, friend or even a celebrity.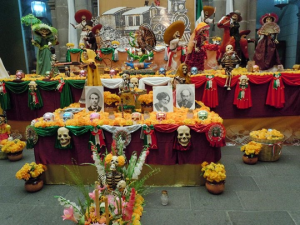 It may have different foods, flowers, candles, liquors: various things which the departed enjoyed during their life. A large photo or image of the honored loved one is at the top of the altar.
Mexico is wealthy in culture and the Day of the Dead is one of those celebrations when Mexican culture is on steroids. It's been recognized by the United Nations Educational, Scientific and Cultural Organization (UNESCO) as an Intangible Cultural Heritage of Humanity. It originates from Mexico, but people in other parts of Latin America celebrate it. My own immigrant family members celebrate it in the US.
If you're in Mexico on the 1st and/or 2nd of November, just head to a city center; I guarantee that you'll see a celebration unlike any you've ever seen. Each altar, procession and costume is unique, and often stylized toward a specific region or pueblo.