December 2014 Can't Miss Festivals & Events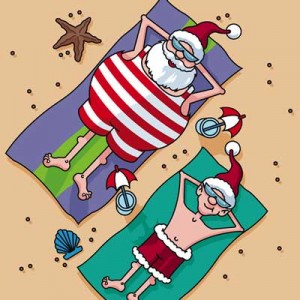 December is one of the most festive times in Mexico. Since the weather in the U.S. and Canada is chilly, gloomy and dark, it's a great time to visit Mexico since the weather is warm, with lots of sunshine! Enjoy these celebrations while you visit Mexico for the holidays. Remember to book in advance if you can.
28 Feria Internacional del Libro de Guadalajara
Guadalajara, Jalisco
November 29 - December 7
The 28th annual Guadalajara International Book Fair features more than 1500 editorial houses from 39 countries. This is the largest Spanish-language book festival in the world. Israel is this year's guest country. www.fil.com.mx
Zihuatanejo Offshore Total Tag & Release Fishing Tourament
Zihuatanejo, Guerrero
December 3 - 7
Billfish Tournament or the Sails & Tails Offshore Tournament is a fly fishing only Offshore Championship tournament. www.fintastic.com/zih-tour/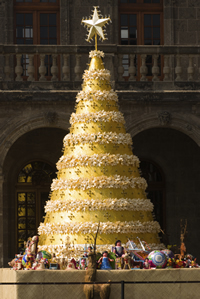 Mexico City Christmas Festivities
Mexico City, Mexico Distrito federal
December 1 - January 12
Ice Skating in the Zocalo! December 1st will be the first day the 24,000 square foot ice rink will be open in the Centro Historico. Open through January 12.
50-meter-tall Christmas Tree! View in the Zocalo from the pedestrianized street, Francisco I. Madero.
Annual December Christmas Parade (early December)
D&iaccute;a de la Virgen de Guadalupe On December 12th the annual pilgrimage to the Basilica de Guadalupe in Mexico City is made by tens of thousands of people. This is a massive cultural event that happens all over Mexico.
Mid-December Parade featuring a Fake Snowstorm Parade begins at La Morena and continues to Eje Central Lazaro Cardenas.
Nativity Scenes Several nativity scenes are featured throughout the city. A Life sized nativity scene is located in the Estadio Azteca parking lot.
For Kids The Zocalo will also be packed with various activities/games/inflatable bounce houses/etc. to entertain children.
Rosca de Reyes Rosca de Reyes (the king's cake), traditionally eaten on King's Day) is created on January 6th.
Fiesta of the Virgin of Guadalupe
All of Mexico, particularly Mexico City
December 12
This is the feast day of Our Lady of Guadalupe and commemorates the traditional account of her first appearances on the hill of Tepeyac near Mexico City in 1531. www.inside-mexico.com/guadalupe.htm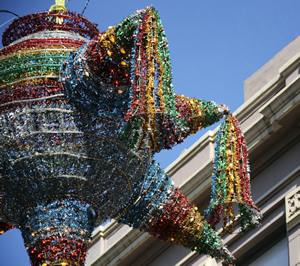 Feria de la Posada y Piñata
Acolman de Nezahualcoyotl, Estado de Mexico
December 16 - 23
The Posada and Piñata Fair is an annual celebration near Mexico City, in which the Christmas traditions of piñatas and posadas are celebrated. Workshops in piñata-making are offered.
Posadas
All of Mexico
December 16 - 24
Every evening from December 16th to 24th street processions take place in Mexico towns and villages that culminate in house parties known as posadas. These celebrate and are in remembrance of Mary and Joseph's journey to Bethlehem.
Sunset Boat Parade
Cancun, Quintana Roo
December 21
Boats cruise Nichupte Lagoon under a nighttime fireworks display that also includes Christmas shows, food & drinks, raffle prizes, live music & dancing. www.sunsetworld.net/sunset-boat-parade
Noche de los Rábanos
Oaxaca, Oaxaca
December 23rd
Radish Night is an event where locals craft radishes into different shapes and figures including flowers, animals and nativity scenes.
Navidad
All of Mexico
December 25
The last posada takes place on Nochebuena or Christmas Eve, where families attend midnight mass and then have a family dinner. Christmas Day is generally a quiet day. Gifts are not traditionally exchanged on Christmas, though it is becoming more commonplace.
Año Nuevo
All of Mexico
December 31
Various New Year's Eve celebrations take place throughout Mexico. Mexicans celebrate New Year's Eve by having a late-night dinner with their families.