Day of the Dead Mexican Holiday Inspires New Pixar Film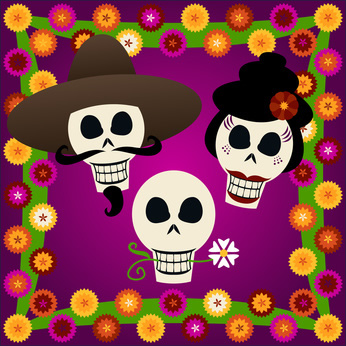 The Day of the Dead holiday has been one of Mexico's most illustrious traditions throughout history. The origins of the holiday date back to the indigenous culture of the Aztecs. This day for Mexicans represents a celebration in regards to death. Mexicans have maintained a strong belief in the acceptance of death and the celebration of both life and death. Death for Mexico is merely a passing or transition between different levels of life. On the holiday individuals oftentimes visit cemeteries and pay tribute to those passed with food, sweets, and colorfully ornamented skull masks.
The Day of the Dead holiday or el Día de los Muertos has inspired talk on the creation of a new Pixar film under the same title. Director Lee Unkrich and producer Darla K. Anderson of "Toy Story 3" have expressed strong beliefs that the film will resonate powerfully with both the American and Mexican populations. Over the years, Unkrich has also worked on such films as Toy Story 2, Monsters Inc., and Finding Nemo. Unkrich stated, "Pixar movies do extremely well in Mexico." He went on to say, "This will allow us to explore a really fascinating aspect of the culture there."
The Pixar film is expected to imaginatively express Mexico's viewpoints and traditions surrounding life, death, and the Day of the Dead. Pixar is excited to develop a creative iconography in order to illustrate the famous Mexican holiday and its implications on the entirety of Mexico's culture and belief system.
---