Course Finalized for 24th Annual SCORE San Felipe 250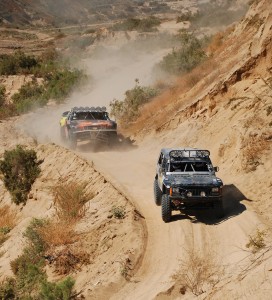 The world's top desert racers are expected to show up for the 24th Annual MasterCraft Tecate SCORE San Felipe 250 desert race which takes place March 12-14 in San Felipe, Baja, Mexico.
Entries will be accepted up until the morning of the race. This year about 250 participants are expect from all over the U.S. and about 10 other countries. There will be 28 Pro and 6 Sportman classes that will race a distance of 232 miles through some of the most rugged desert one can find.
Sal Fish, SCORE CEO/President just returned to Los Angeles after finalizing the course and states..."I can't tell you how enthusiastic my reception was along with the interest and support I received from the community, officials and ejidos--it was really overwhelming. The course is very similar as last year, with a few exceptions and our pre and post-race festivities will once again be held or centered on and near the picturesque Malecon beachfront and we are excepting a great entry field so this year's event should be something very spectacular. Some of the course changes will actually help making vehicle support chasing easier. The new highway over the last section entering town from the Highway 3 junction is four lanes, nearly finished and there are more hotels and condos then we have ever seen before in San Felipe."
---