How Is Cinco de Mayo Celebrated in Mexico?
When you think of Cinco de Mayo, what comes to mind? Incredible food? Margaritas? Beer? Vibrant costumes? Music and dancing?
Although all of the above symbolize this historic celebration (particularly in the United States), there's a lot more to be discovered -- especially once you cross the border.
What Is Cinco de Mayo?
You may have heard of this celebration, especially near US borders, but what is Cinco de Mayo?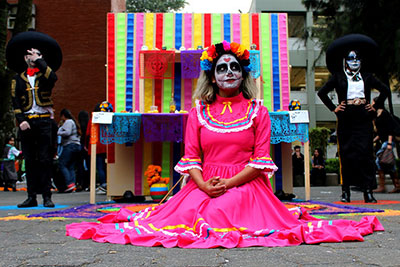 This fun and colorful annual celebration, which translates to the "5th of May," is more of a commemoration. In 1862, the Mexican army defeated the French at the Battle of Puebla. They'd been fighting allied forces who were trying to invade Mexico since 1958 (often referred to as the Mexican civil war).
What Can I Expect From This Celebration?
Although you may instantly think about Mexican food and cocktails (which it certainly a part of this celebration in the United States), Cinco de Mayo is celebrated differently in Mexico than in the US.
If you are looking for a more authentic, low-key experience, the only places that celebrates this holiday on a large scale are Mexico City and Puebla. And in Puebla, where the battle took place, expect to see celebrations based in Mexican traditions and take part in...
Historical re-enactments -- Although this is exciting for history buffs, these re-enactments are also a great educational experience for the whole family.
Parades -- When it comes to vibrant costumes, bright floats, music and dancing, the Cinco de Mayo parade in Puebla is memorable. Thousands of locals come in costume to reenact their historic win. This is followed by music, food and dancing.
Food -- Come hungry because vendors will be selling traditional Mexican food that'll have you coming back for more. Whether you're in the mood for mole poblano or a chalupa, you will not be disappointed.
You can find more Americanized celebrations in Tijuana, Ensenada & Rocky Point (Puerto Peñasco) due to their proximity to the border.
If you've never traveled to Mexico for Cinco de Mayo, you are in for a treat. Like any vacation, planning ahead can help you ensure that your expectations are met. Pack clothing that represents the Mexican flag -- red, green and white. Book your accommodations ahead of time and don't forget Mexican insurance. After all, when everything's planned in advance, you can focus on what really matters -- enjoying yourself.
So, get your Cinco de Mayo on! You won't regret it.