Christmas Time Not Restricted to the 25th in Mexico
Last Updated: December 27, 2012 by Al Barrus
Categories: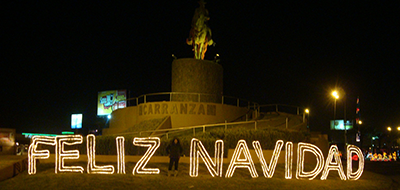 The first thing I noticed about the Navidad here in this part of Mexico is how long it lasts. The lights and decorations start going up just after the Revolution holiday in mid-November. People here leave the decorations on until well into January. Christmas isn't really over in Mexico until the 6th of January: the day in Hispanic tradition that celebrates the arrival of the three wise men to Bethlehem.
While the snow is missing here (and throughout most of Mexico) the holiday spirit seems to be far more prevalent than north of the border. Christmas parties have their own classification. They're called Posadas. They officially go from the 16th until the 24th of December in the Hispanic tradition, but here in Saltillo just about any party that takes place in December can be called a Posada. Heck, the Coahuila state government even seems to give special treatment to these holiday-time parties that run all week long. It's illegal for stores to sell alcohol on Sunday here in Coahuila. This law is lifted one month a year. That month is December.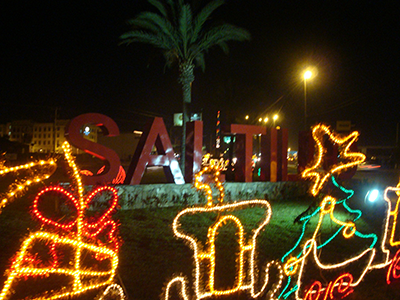 From what I gleaned from asking about the Posadas is it has something to do with Joseph and Mary looking for places to stay when Mary was pregnant with baby Jesus. Research tells me that the nine-day celebration period represents the nine months that Mary carried Jesus. Posada literally translates to "lodging" or "accommodation," and this tradition has been in Mexico for more than 400 years. While it stems from Catholic dogma, it's celebrated by Mexicans of other faiths as well. Some speculate that the Posadas were started by friars who wanted to combine Catholicism with an Aztec December celebration for the birth of a different god which also included days of partying.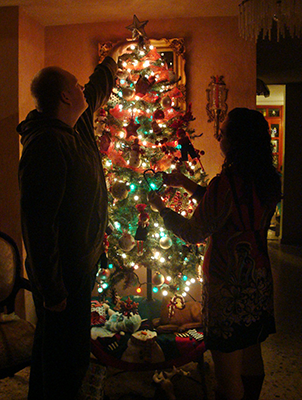 The official Posadas will often include the carrying of candles inside of paper lampshades. People will dress up as Joseph and Mary, often with Mary riding a real burro or donkey. Residents of the homes will sing songs inviting the Holy Mother and Joseph into their homes during each night of their journey to Bethlehem (and here I thought no one let them in so they had to have the baby in a barn.)
At the middle school where I teach we had a Posada on the day before vacation. We I didn't have any sort of Mary and Joseph pageant; I'm guessing that's because it's a secular school. However we ate tamales, listened to pop music and the kids broke several piñatas. This was new to me because I'm used to only seeing piñatas at birthday parties. I guess you could say it was for Jesus' birthday, but there were no Barney shapes or Barbies or anything that most little kids like to beat up for their birthday. They were all shaped like stars, which I speculate is to represent the bright celestial body that drew the wise men from the east to visit Jesus.
If you're a late comer to Saltillo this holiday season, or really any part of Mexico, you still have the chance to see the Feliz Navidad decorations, and even hear the holiday music, which gets played through much of January.