How to Celebrate Day of the Dead (Día de los Muertos) in Mexico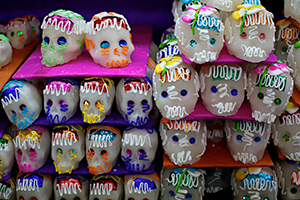 Day of the Dead, or Día de los Muertos in Spanish (though the originally Día de Muertos), is a Mexican celebration honoring those who have passed away and supporting their journey to the afterworld. It has gained popularity in the United States in recent years, however, if you really want to experience this special holiday, there is no better place than Mexico.
Day of the Dead
Celebrated from October 31 until November 2nd, the holiday has origins dating back to ancient Mesoamerica. The first day, October 31st, is All Saints Eve, also Halloween or All Hallows Eve. November 1 is 'Dia de los innocentes,' or Day of the Children. November 2nd is All Souls Day, or Day of the Dead. Visiting graves of the deceased, remembering happy times with them and decorating the graves with elaborate altars of candles, marigolds, sugar skulls and treasured items. The Mayans, Aztecs and Toltecs celebrated for months, with separate traditions designed to honor their deceased loved ones. After the Spanish invaded, these practices became intertwined with the Catholic All Saints and All Souls holidays. Today, Día de Muertos is celebrated throughout Mexico and Central America, as well as other Latino communities.
Cancún
Cancún is a great place to celebrate Día de Muertos, especially if you're traveling with children. The Xcaret Eco-archeological Park gives visitors the opportunity to participate in re-enactments of the traditional Festival of Life and Death rituals. There are also plays, festivals, dance performances and craft workshops for both children and adults to take part in. The park has more than 50 attractions dedicated to the Mayan jungle and culture.
Mexico City
Mexico City's Día de Muertos celebrations have historically been celebrated privately in peoples' homes. Now, the city hosts several public festivals including the colorful Procesión de las Catrinas along Paseo de Reforma. You can also take part in candlelight offering to the Gods at the San Andrés Mixquic Cemetery in Tláhua. If you want to see some really ornate alters, head to either the San Angel neighborhood or Mega Ofrenda Zócalo. This year's celebrations will not be affected by the recent earthquakes.
Oaxaca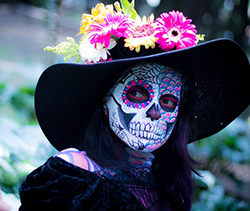 If you can only celebrate Día de Muertos in one place this year, Oaxaca is a must. Locals eat black molé, sugar skulls and buy or decorate ceramic handmade skulls of various colors, sizes and shapes. You can also partake of mezcal (the original tequila) and get your face painted by local artists or take in the beautiful crafts and artwork. The town's main street is filled with people in costume and with stunning face-paint. The usual Día de Muertos procession will still take place along the city's main road, despite the region's recent earthquake.
With so many wonderful ways to celebrate Día de Muertos in Mexico, you're sure to have a memorable and amazing experience no matter where you choose to go.