Bull Fighting in Mexico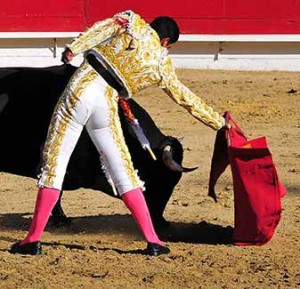 From AboutMexico.net.
The Spanish occupation of Mexico led to the rise of bullfighting in the country. Also known as fiesta brava, the sport has been one of the most popular in the country for the last 400 years.
Bullfighting in Mexico is similar to the Spanish style of bullfighting. Matadores perform specific moves, occasionally using a piece of red cloth, to attract a bull in a graceful manner. Typically, a bullfighting show includes rodeos, pig chases and dances, before the bullfight begins. In the end, the bull is killed with a sword.
Thousands of bullfighting events occur annually in Mexico. In certain areas in the country, bullfighting rakes in huge amounts of money yearly, coming from both tourists and fellow Mexicans.
As evidence of the popularity of the sport, the largest bullring in the world can be found in Mexico. The bullring is known as Plaza Mexico, which is located in Ciudad de los Deportes, Mexico City. Plaza Mexico can seat around 40,000 people. It was opened on February 5, 1946. The anniversary of the opening of Plaza Mexico has been celebrated every year thereafter with a special bullfight called the Corrida de Aniversario.
Of course, with popularity comes controversy. Organizations promoting animal rights have rallied against the sport of bullfighting in Mexico. They argued that the sport was not only dangerous for the matador, but more so for the horses and, of course, the bulls. Other actions against bullfighting were also done, such as the establishment of humane education programs and the creation of mascot Pepe the Bull. At one point, individuals under 18 years old were banned from watching the sport. However, fans protested by bringing their families to watch the sport.
Bullfighting remains prominent during the dry season, about November to March. Tickets may be bought at the bullring. Prices for the tickets vary, ranging anywhere from $5 to $55.