Best Ways to Bring Pets on a Mexico Vacation
Bringing your Pets Along for a Mexico Vacation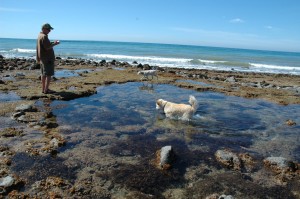 There is nothing more disturbing than leaving your pet at home when you go on vacation. And nothing more fun than taking them along. So here's how to do it when you're headed to Mexico...
USDA
The USDA (U.S. Department of Agriculture) provides information regarding International Animal Export Regulations, including for Dog and Cats that are being imported into Mexico.
SAGARPA-SENASICA
If you are planning to travel to Mexico with your pet, you will need to comply with the rules set forth by the SAGARPA-SENASICA.
SAGARPA: Secretaría de Agricultura, Ganadería, Desarrollo Rural, Pesca y Alimentación (Secretariat of Agriculture, Livestock, Rural Development, Fisheries and Food).
SENASICA: Servicio Nacional de Sanidad Inocuidad y Calidad Agroalimentaria (National Service of Agro Alimentary Health, Safety and Quality).
Upon arrival to Mexico with your pet, you will need to seek out the SAGARPA-SENASICA personnel who will perform a brief physical inspection of your pet, as well as verify your compliance with the following rules:
Animal Health Certificate for Import
You must present an original copy of the pet's Health Certificate (APHIS Form 7001) that has been issued and signed by a USDA accredited veterinarian. The certificate will be good for six months, but it must have been issued within ten days prior to the pet's arrival at the border. It needs to include the full name and the complete address of the exporter (pet owner), as well as the complete address of the pet's destination in Mexico. The certificate must also include proof of current rabies vaccination; including the date it was administered, and its expiration date (puppies and kittens that are under 3 months old are exempt from this requirement). The animal health inspection, performed prior to the pet's travel to Mexico, must show that the pet is clinically healthy. If you are bringing a pet to Mexico, from any country other than the U.S. or Canada, the certificate must also show that pets have received preventative treatment for both internal and external parasites within the last six months and show that the pet is free of parasites. If for some reason your pet's health certificate does not comply, or if your pet is found to have any parasites, you can elect to solicit the services of a Medical Veterinarian, of your choosing, and at your own cost, in Mexico, to produce a new health certificate and/or administer any necessary treatments.
Pet carriers and kennels
Pets must be transported in clean empty pet carriers or kennels to aid SAGARPA-SENASICA officials in the conduct in their physical inspection of pets. Do not place any bedding, toys, dishes, or other accessories in the kennel with your pet, because the officials will remove any items and set them aside for official disposal. The SAGARPA-SENASICA personnel will also apply a preventative spray treatment to all pet carriers and kennels entering Mexico.
Bringing your pet's food
You are allowed to bring dry pet food in an amount that corresponds with the daily rations of the accompanying pet, or up to 50 pounds (22.6796 kilograms) per family. It should be in either a single container or up to two separate containers, as long as it does not exceed the allowable amount.
Up to three pets can get in for free
If you are bringing from one to three pets, the cost to process the animal health importation certificate is free, but if want to bring four or more pets, you will be required to file additional paperwork and pay extra processing fees.