Border Security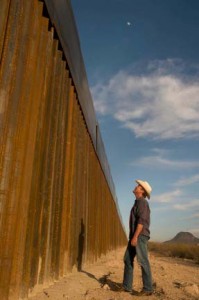 There has been an immense amount of debate recently about the safety of the U.S./Mexico border. But what are the facts? What is currently being done to protect it? What provisions are in place and how well are they working? What is proposed for the future?
The 1969-mile border between the U.S. and Mexico employs 58,000 border personnel utilizing 16,875 vehicles, 269 aircraft, 300 watercraft, 300 camera towers, flying drones and 651-miles of fence. The fenced portions mostly protect cities and bridged areas. All this at a cost of $4 billion annually.
In 2012, 357,000 immigrants were caught attempting to illegally cross the border. This is down more than 75% from 2000. Those who feel stronger border controls need to be in place claim the numbers are down due to high unemployment in the U.S. Yet the Government Accountability Office estimates only 61 percent of illegal crossers are caught.
Forty percent of the border patrol's staff is now located in El Paso and Tucson. Some feel a more even distribution of staff would allow for better security.
What other ways can border security be improved? Many feel building the fence across the entire southwestern border is the solution—at an estimated cost $22.4 billion. The state of Arizona has even committed to raising $50 million in private donations to build a fence across its 370-mile border.
There are still substantial costs associated with border fence maintenance including, among other things, fixing breaches in the fence. There were 4,037 border fence breaches that needed to be fixed in 2010. Patrolling is still necessary since breaches, tunnels, fence climbing and other means would be and are used to cross the border, despite fencing.
The drug cartels control various portions of the border and the illegal crossing. They charge between $3000 and $30,000 per person. As borders have tightened the cartels have gotten more creative, to keep that income, by stealing or creating mock UPS, FedEx and other delivery vehicles for transport. It is sure their tactics will get more inventive as the border tightens.
President Obama stated the U.S. has "strengthened border security beyond what many believed was possible."
Political scientist, Rey Koslowski, of State University of New York said "The only nations that have come close to such control were totalitarian, with leaders who had no qualms about imposing border control with shoot-to-kill orders."
Whatever border security and immigration reform comes next, it's apparent the country is split on the issue and there is no easy solution.
Reference: The Week http://theweek.com/article/index/241400/what-would-it-take-to-secure-the-us-mexico-border