Bisbee's October Cabo Fishing Tournaments
Los Cabos Offshore Charity and Bisbee's Black and Blue 2014 Tournaments
Los Cabos Offshore Charity Tournament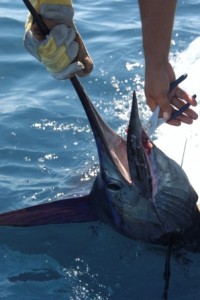 The registration and kick off party for the Los Cabos Offshore Tournament begins on Friday, October 17th at the Wyndham Cabo San Lucas Resort's marina patio bar. Then, on Saturday and Sunday, the fishing tournament competitors will be on the water, each morning, for an 8:00 am shotgun start, and then will be allowed to fish till 5:00 pm, when all lines must be out of the water. The awards ceremony takes place, after Sunday's fishing, at the Baja Cantina Beach Club. Last year's tournament resulted in over $130,000 being donated to local charities.
Bisbee's Black and Blue Tournament
The Black and Blue Tournament has been one of the highest paying tournaments in Mexico and it draws competitors from around the world. The registration and opening ceremonies for this year's Black and Blue Tournament begins on Tuesday, October 21st outside the Puerto Paraiso Shopping Mall. The tournament's fishing days follow on Wednesday, Thursday, and Friday, beginning each morning with a shotgun start at 8:00 am, all lines out of the water by 5:00 pm, and all caught fish weighed in by 9:00 pm. The awards presentation takes place on Saturday, October 25th, and will include a viewing of a video recap from the tournament, plus a live performance by local musical group, Cabomax. Last year the ladies won big at the Black and Blue Tournament, with Linda Williams catching a blue marlin that weighed in at 774 pounds, and earned her nearly $370,000 in winnings. However, Martha McNabb's team, with their 525-pound marlin, had the biggest overall winnings, by participating in additional side jackpots and earning nearly 1.2 million dollars.
Los Cabos Hurricane Relief Fund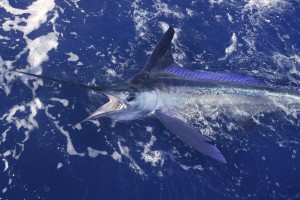 The Los Cabos Hurricane Relief Fund was started by Bisbee's with an opening donation of $250,000, and the group is hoping to raise over a million dollars. Donations will be used to provide support to the residents, and local businesses, that have been affected by Hurricane Odile. The charity will be using the donated funds for putting up temporary shelters, rebuilding damaged homes, and delivering relief supplies. Donations will also be used to help area charter boat operators get their damaged vessels fixed, and back out on the water. Donations to the Los Cabos Hurricane Relief Fund may be made through the Bisbee's Fish & Wildlife Conservation Fund website.
East Cape Offshore Fishing Tournament
The East Cape Offshore Fishing Tournament is another one of Bisbee's annual fishing events, which usually takes place in early August.