The Best Things Happening in Mexico in August | August 2014 Events
Not as many Americans visit Mexico in August compared to July, but tourist attractions may still be busy due to schools being out in Mexico. Still, with less foreign tourists, you may be able to find some good deals.
If you find yourself in Mexico this August, look for these cultural and celebratory events and festivals to keep you entertained. Some events begin in July so are copied from the July Events post.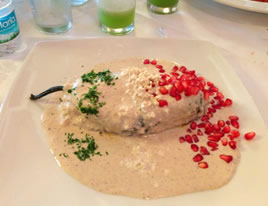 Chile en Nogada
Puebla, Puebla
All of August
Chile en Nogada is a season in Mexico, like Spring or Fall, that lasts from July through September. Also a Pueblan food dish, August thought to be the best time to sample it. It may be found in other destinations throughout Mexico, as well.
Feria Nacional Durango
Durango
July 18 - August 10
This year the Durango National Fair celebrates the city of Durango, "La Fiesta Duranguense Identity" will highlight the traditions and rich culture of Villista, and there will be a 60 years of Cinema celebration. Enjoy unforgettable shows, attractions, cultural events and performances. http://www.ferianacionaldurango.gob.mx/
Guanajuato Film Festival
Guanajuato
July 25 - August 3
In it's 17th year, the Guanajuato Film Festival (a.k.a. Expresion en Corto) is the biggest film festival that takes place in Mexico. It's purpose is to promote Mexico cinema and facilitate film production. http://www.guanajuatofilmfestival.com/
Zacatecas International Folklore Festival
Zacatecas
July 31 - August 7
Since 1996 the Zacatecas International Folklore Festival has celebrated local and international folklore throughout the Mexican state of Zacatecas. Enjoy dance, crafts and cuisine the represents various cultures and traditions. http://zacatecastravel.com/fiestasyfestivales.php
San Miguel International Chamber Music Festival
San Miguel de Allende, Guanajuato
July 31 - August 23
In its 36th year, the San Miguel International Chamber Music Festival presents some of the most honored ensembles from around the world. Enjoy in the intimate, small and historical Angela Peralta Theater. Instruction is provided in town settings during the weekends, in addition to the concerts held throughout the event. http://www.festivalsanmiguel.com/
Fiestas de la Vendimia
Ensenada, Baja California
August 1 - 17
The popularity of Ensenada's Grape Harvest celebration increases each year, as does their wine popularity. Enjoy winery tours, wine tasting, dining and concerts. The kick off takes place at the Ex Hotel Riviera, with the spotlight on vintage wines and local fare. Read More...
Expo Feria Tulancingo 2014: Teatro del Pueblo, Palenque
Tulancingo, Hidalgo
JAugust 1 - 17
The Tulancingo fair takes place every year and is noted for spectacular artistic performances. This two week party will feature numerous attractions you won't want to miss.
Bisbee's East Cape Offshore Tournament
Buenavista, Baja Sur
August 5 - 9
The theme of the East Cape Tournament "Cabo fishing the way it used to be." Marlin, dorado and tuna are the catch in this tournament. Awards of $400,000 are more are expected. Beach weigh-ins, permit non-competitors viewing. www.bisbees.com
Feria Nacional Potosina - National Fair of San Luis Potosí or Fenapo
San Luis Potosí, San Luis Potosí
August 8 - 31
Every summer those from the neighboring states of Zacatecas, Aguascalientes and Queretaro join to celebrate local culture through dance, theatre, opera, photography and painting. Enjoy many events during the second largest celebration in the region. fenapo.mx/fenapo2014/
Exposicion Nacional de Artesanias - National Handicrafts Trade Fair
Tlaquepaque, Jalisco
August 12 - 16
Artists from all over Mexico exhibit their work in this fair. Find jewelry, furniture, candles, ceramics, pewter, wood items, blown glass and more are featured in the quaint and historic town of Tlaqupaque near Guadalajara. www.enart.com.mx
ATMEX Feria de Aventura y Naturaleza - Adventure Travel Fair
Boca del Rio, Veracruz
August 27 - 30
An event to promote adventure travel and nature tourism in Mexico, the ATMEX Feria de Aventura y Naturaleza will feature exhibitors and buyers. It is one of the largest of it's kind in Mexico. atmex.mx
Festival Internacional de Cine de Monterrey - Monterrey International Film Festival
Monterrey, Nuevo Leon
August 26 - 31
Now in it's 10th year, this festival celebrates an international, diverse selection of films. www.monterreyfilmfestival.com
Las Morismas de Bracho
Zacatecas
August 25 - 28
This event, which celebrates St. John the Baptist during or near Saints Day, involves battle portrayals between the Moors and Christians on the Lomas de Bracho.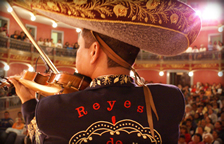 Encuentro Internacional del Mariachi y de la Charreria - Mariachi Festival
Guadalajara, Jalisco
August 28 - September 7
The most popular annual Guadalajara event invites visitors the world over come to listen, audition, and compete as Mariachis. Performances take in various venues throughout Jalisco. www.mariachi-jalisco.com.mx