Best Little Race in Baja – San Felipe's Baja 250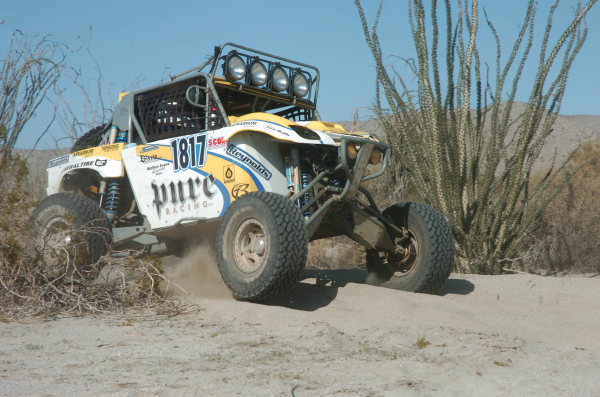 Need something to do this weekend? Head down to Baja's San Felipe to watch one of Baja's premier desert races, SCORE's 25th Annual Mastercraft Safety Tecate San Felipe Baja 250. San Felipe is just 192 miles from Yuma Arizona. Located on the Sea of Cortez, on the eastern coast of the Baja, San Felipe provides the perfect backdrop for the Baja 250, since it contains the desert for racing and the beach for relaxing and discussing the events of the race with fellow onlookers afterwards. If you would like to witness this historic race, you can do so by taking a quick road trip to San Felipe this weekend.
When: The race begins Friday, March 11 and ends on Sunday, March 13. The green flag will drop at 6:00 AM Pacific-Standard time sharp, for the motorcycle and ATV classes. The car and truck classes will begin three hours later at 10:00 AM Pacific-Standard time.
Where: San Felipe, Baja Mexico. The start and finish line will be the landmark San Felipe Arches on Highway 5 just outside the town of San Felipe.
Who: 74 racers with a combined 177 class wins will be competing for the San Felipe 250 cup. Participants come from 22 U.S. States and 9 countries. There will be 21 Trophy Trucks in Class 1 and 16 in the SCORE Lite. Some of the star racers include John Griffin of Stock Full, Steve Hengeveld of Class 22, Tim Herbst of SCORE Trophy-Truck, Jeff Kaplan of Class 40 and Wayne Matlock of Class 25.
How: The race track is a public desert track of 252.09 miles. It is located on the outskirts of San Felipe and is a partly on public roads, including Highway 5. The track runs counter clockwise out of San Felipe and then up to Highway 3. The track then turns south where it goes through some of the most beautiful, as well as the most challenging, washes in all of Baja. Highlights of the track include the majestic Matomi Wash and the infamous Baja canyons of Huatomote and Chanate.
If you want to get a part of the San Felipe 250 action, you can simply jump in your own personal desert racing vehicle and head on down. San Felipe is in Mexico's free zone, so no need to worry about permits and hassles. You will need to get Mexican auto insurance for your car, which you can do easily online. A policy can be purchased just for the time you will be in Mexico.
If you are planning on heading down with friends, check out the great deals on group insurance offered by Mexpro.com. Since this is a popular event, you may want to consider making hotel reservations before you go. However, if you have an RV or are willing to camp, there are RV parks and beach campgrounds that will be able to accommodate you as well. Bring your camera to capture every exciting moment, and be ready to witness one of the wildest races in Baja!
To learn more check out the SCORE website...http://www.score-international.com/