Bellas Artes and Patio de La Secretaria de Cultura-Fine Arts in Mexico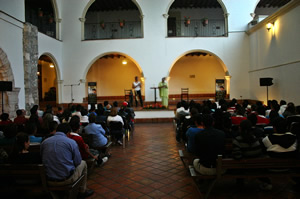 Culture is something I just can't get enough of. For anyone considering moving to Mexico, the richness of the art, tradition, and history here are a big deal-maker. However, I hadn't appreciated the Mexican government's efforts to promote the fine arts until I was introduced to Bellas Artes.
While enjoying a walk in the central plaza here in Saltillo with my wife, we decided to step into one of the state government buildings, called the Patio de La Secretaria de Cultura. It is a state structure reserved especially for culture. It had all the feel of a hip art gallery that I would find in my home state capitol of Olympia, WA, except here the architecture was hundreds of years old. There was even an espresso shop where I enjoyed a café Americano while listening to some English-language indie-rock music.
As I sipped my delightful beverage, I was handed a sort of playbill and asked to join in an exhibition. Chairs were set up with a sound system in front to augment the voices of actors who would be putting on a performance.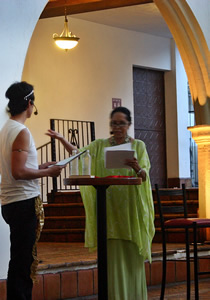 It was a simple but graceful reading from the theatrical work Obra de Medusa. This drama was written by the late Mexican author and playwright Emilio Carballido who wrote more than 40 plays before his death in 2008.
Reading for Medusa was the veteran TV and film actress Lilia Aragón who has been acting in television novelas (the Mexican version of soap operas) since the 1970s. She's also acted in more than a dozen Spanish language feature films.
The dialogue partner for the performance was up-and-coming actor Arturo Rosales, reading the parts of Perseus. The two read only fragments of the opera with a limited set. I saw no sword, so I'm guessing they didn't get to the part where the hero beheads the snake-haired villainess.
The show was free admission. The city, state and national governments offer many sorts of event presentations which include fine art forms such as dance, music, dramatic theatre, paint and sculpture galleries, literature, and architecture presentations, as well as photography and film exhibits.
The Bellas Artes government body doesn't stop at giving free shows. They also have workshops for children and are the main body for the centers of art education ranging from beginner to post-graduate levels. At the Escuela Nacional de Danza Folklórica in Mexico City, students are taught everything from indigenous dance arts to the old-world crafts. At Escuela de Laudería in the central Mexican city of Santiago de Querétaro, students learn to craft violins and other classical stringed instruments.
For me the performance I saw here in Saltillo was hard to understand with my developing Spanish. I was a bit star-struck to see television actors up-close. I'll have to be sure to keep an eye out for more opportunities to take in some of this government funded art.
For more information on the Bellas Artes organization or to find an exhibition near you, check out the website at www.bellasartes.gob.mx and be sure to use an online translator of you're not fluent in Spanish.