Baja California Grape Harvest Festivals
Fiestas de la Vendimia
On Friday, August 1st, 2014, the annual Fiestas de la Vendimia events are set to begin in Valle de Guadalupe, near Ensenada, in Baja California, Mexico. Valle de Guadalupe, also known as Mexico's Ruta de Vino, is home to numerous vineyards that produce many great wines. Ensenada is a about an hour and a half of easy driving along Mexican Federal Highway 3, from the border at Tecate, California. Ensenada, all of the Baja Peninsula and nearly half of the state of Sonora, are located in Mexico's Free Zone, so you will not be required to get a Temporary Vehicle Import Permit. However, it is still important to purchase Mexico Auto Insurance, because the Mexican authorities do not recognize any U.S. or Canadian liability coverage. Also, be sure to have a designated sober driver, as getting busted for drinking and driving in Mexico can result in having to spend time in a Mexican jail, as well as fines and being banned from future travel to Mexico.
Event kick off at Riviera del Pacífico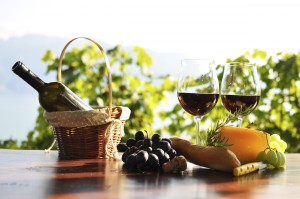 The Wine tasting event will be held at the Centro Social, Cívico y Cultural de Ensenada, located in the historic Riviera del Pacífico. The Riviera del Pacífico was officially opened, as the Playa Ensenada Hotel and Casino, on Halloween night in 1930. Famous boxer, Jack Dempsey, was originally the hotel manager, and it has been rumored that Chicago Gangster Al Capone was one of the financial backers for the construction of the lavish gambling get-away. Today, the Moorish-style structures of the Centro Social, Cívico y Cultural de Ensenada is home to Ensenada's Museum of History, and the City Gallery, and it is also where conventions and cultural events are often held.
Wine and Festivities
More than 40 vineyards will be represented, along with their accompanying labels, during the wine tasting event on Friday, at the Riviera del Pacífico. On Saturday, a series of oenological (the science of wine making) tours, organized by Provino, will begin, with various events taking place at area vineyards, including: a Gala Food and Wine Pairing Dinner event at Adobe Guadalupe; a Dinner, Wine and Music event, with jazz and blues music performed by Ensenada Jazz, at Viñedo Las Nubes; a Fashion Show, featuring designs from Pineda Covalin, at Finca La Carrodilla; and a Twilight Concert, performed by the Dallas String Quartet, along with an offering of traditional cheese trays and a variety of wines, at Monte Xanic. The Fiestas de la Vendimia proceedings are set continue each weekend, along with a few weekday happenings, at various vineyards around the Valle de Guadalupe, until Sunday, August 17th, when the closing event is set to take place at Viña de Liceaga.