Mexpro.com Sponsors Baja 1000 Motorcycle Division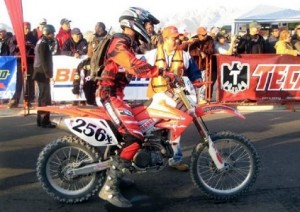 This year's Baja 1000, the final event of the five-race 2010 SCORE Desert Series, will be held November 16-20 in Mexico on a brutally-rugged 1072.67-mile Sal Fish signature desert race course. Mexpro takes great interest in the Baja races and sponsors Craig Anstine and his team in the Motorcycle class.
Anstine's team will ride a 262X Honda Race bike in the Sportsmans Class. The team posed impressive showings at the Baja 250 and the Baja 500 and is currently in 3rd place in the point standings for the race season. Six riders comprise the team and will each take on the responsibility of a 200 mile section of the Baja race course. The goal is to ride smooth and fast through the rough Baja terrain and to cross the finish line in LaPaz in first place in the Sportsmans class.
The team of riders are a group of Firefighters from New Mexico, California and Arizona: Craig Anstine, Shawn McKenzie, Rusty Sexton, Stan Hill, Torsten Palm and Jess Maier. Schampa Technical Wear is the main sponsor for the race team.
More than 250,000 spectators are expected along the difficult race course that traverses both sides of the Baja peninsula and begins in Ensenada, Baja California. The finish line is at the southern tip of the Baja peninsula in La Paz, Baja California Sur.
The Baja 1000 was first held in 1967 and is the oldest, most well known desert race. This year's is the 43rd event will be the 18th time the race has finished in La Paz.


More than 300 participants are expected to enter for cars, trucks, motorcycles and ATVs, competing in 33-Pro and 7-Sportsman classes. Racers have entered from 35 U.S. States, as well as Australia, Austria, Canada, Denmark, France, Germany, Great Britain, Guatemala, Hong Kong, Hungary, Italy, Japan, Mexico, South Africa and the US Territory of Guam. Entries are accepted up to race morning.
Mexpro.com provides Mexican car, motorcycle and RV insurance to the Craig Anstine race team.
For more information on the Baja 1000 click here.
The team's Baja 1000 2009 Pre-Ride Video