Baby Turtles in Bucerias, Nayarit
Last Updated: November 4, 2013 by Al Barrus
Categories:
Story by Al Barrus, photos by Jan Critchfield
My three days in Puerto Vallarta (PV) were unforgettable. However, there's more to the Bahia de Banderas (or Bay of Flags) than PV. I figured that the whole bay was part of the Mexican State of Jalisco, but the tropical bahia is split equally among two states: the portion to the north belonging to the state of Nayarit.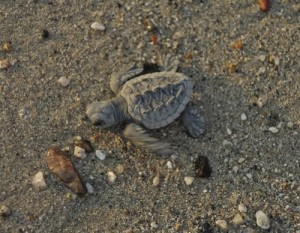 After gaining the approval of wildlife officials, my wife hand carried this hatchling close to the surf and we saw him off to his voyage in the Pacific Ocean.
I enjoyed swimming in the beaches in front of my PV hotel. It was, after all, where we encountered the sea turtle who came ashore to lay her eggs as we were swimming during our first night on the beach. However, the waters of Puerto Vallarta can be treacherous. Since its set against the Sierra Madre Occidental Mountains of west Mexico, the mountain range continues on into the ocean. The ebb and flow of the steep mountain slope/beach can be very intimidating to novice swimmers. The waters are gushing and sucking from the depths of the Pacific Ocean onto the ramp-like beach of Puerto Vallarta. And the tide rips and pushes you with each passing wave.
My father in-law recommended we go further north to find safer beaches for bathing. Mexicans tend to be a bit more superstitious about water. Being from the Pacific Northwest where there are rivers, lakes and ocean on all sides, I'm happy to swim in any natural water that won't give me hypothermia.
We took north to Bucerias, Nayarit. This part of the bay, known as the Riviera Nayarit, is very fair for swimming. It's where the Rio Ameca empties into the Bay of Flags. It is north of PV, and it too is an ideal stomping ground for expats and foreign tourists. While in the greater PV area, I saw more license plates from my home state of Washington than any other US state. I guess the warm sun draws more people from the greyer parts of the US than from any other region.
We were running short on funds in Bucerias. My coolant pump met its end, and so we had to pay for some emergency car maintenance. The mechanic shop (or taller) had very reasonable rates and put us back on the road the next day.
So yes, we were beach-bumming it. As we were partaking in a section of the 200-miles of uninterrupted sandy beach, we found a beach-side restaurant that was closed, as we were visiting on a Monday. Chairs were stacked on the tables; the floor was the sand of the beach. My wife asked a custodial worker if we could take down some chairs and sit at a table and enjoy the food and drink that we had packed. No one gave us trouble, save for some artisans/venders who spotted us as vacationers, and they advertised their wares; something you have to get used to on these beaches.
As we were enjoying our out-door beach-side meal, my wife noticed a commotion gathering at a restaurant a couple hundred feet from where we were dining. I went with her and saw people grouped around a table. Emerging from beneath the plastic table were dozens of Olive Ridley sea turtle hatchlings.
This was a joyous occasion. Just a couple nights before we had witnessed a mother turtle laying her clutch of eggs, now we were watching the circle complete as the dark, leathery infants fought with all their might to escape the sand and use their flippers to hobble towards the Pacific.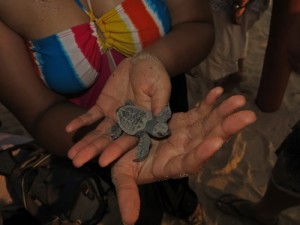 An officer of environmental protection collected the baby turtles into a plastic bin, so they could be released several hours later under the cover of night. They allowed my wife to coddle one in her hands. She went into the office where the rest of the hatchlings were kept. She kindly asked the officer if she could release one herself. He said she could do it, so long as no one else saw. Some of the locals commented that this threatened species made a tasty meal. My wife was determined to see at least one of these babies continue onto its life in the sea.
It was in this manner that we ended our brief visit to Bucerias. As we saw our hatchling friend off into the surf, we took back to our hotel in PV. I would recommend Bucerias to those who wish to experience the magic of Puerto Vallarta but in a small-town setting set against fairer seas.