Ash V-Day
During this last week in Mexico I've been happy to see and participate in two unofficial holidays. While both Ash Wednesday and Valentine's Day are celebrated north of the border in the U.S.--it's a lot easier to see these come and go with little notice--but not in Mexico.
I'm not a Catholic. I was actually raised Mormon, but no one really questioned me on this fact as I passed in the line to enter the church on Wednesday the 13th of February, Ash Wednesday. My wife is Catholic, but for many in Mexico, Catholicism is more of a series of cultural traditions than a daily routine and/or philosophy, as are other forms of faith.
We came to our nearest Catholic church, Nuestra Señora de Fatima, just five minutes before nine o'clock in the evening of Ashes Wednesday. The Padre gave a sermon which I could not translate since I was in the overflow section of the church, next to the front doors. At the stroke of nine lines formed. I wasn't sure what to expect. My wife told me to just say "amen" after I was blessed. The priest applied a heart-shaped thumb print of purple-grey palm ashes on my forehead. I learned later that this holiday marks the beginning of lent, during which many Christians will fast or forego the eating of meat in solidarity for the 40 days and nights during which Jesus fasted in the desert. After the application of the ashes some parishioners formed a line to have the priest hear their confession. I had never seen this, and they did so out in the open without any wooden closets like you see in movies.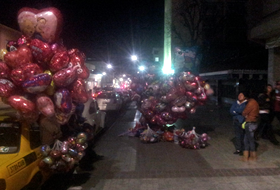 The day after the reflective holy Ashes Wednesday came Dia De San Valentin, as usual, on the 14th of February. This feast was originally meant to observe the early Roman Christian saint Valentinus, who was imprisoned and executed for performing weddings for the empire's soldiers who were forbidden to marry, and for ministering to Christians, which was also illegal at that time in the Roman Empire. The holiday feast was turned into a day of commercialized romance by the 15th century when the tradition of courtly love was flourishing. People began giving their lovers flowers, offering confectionery delights, as well as presenting one another with greeting cards which took on the name of "Valentines."
Romance and courtly love flourish in modern day Mexico, as well. Something I first noticed when I moved here was that public displays of affection are much more common than they are in the United States. That may be a big reason why divorce rates are staggeringly lower in Mexico.
When I took to the streets to find my wife some V-day gifts the traffic was at a stand-still and I had to take an alternate route. Vendors flood the streets selling roses, chocolates, and it's hard to miss the merchants with the cloud of heart-shaped balloons hovering above them.
If you're in Mexico on the 14th of February don't forget to check out the local city center. Love is in the air—and not just for the romantic types. People from local churches go around offering big group hugs. The warmth and love of this culture is likely the biggest reason why I continue to call Mexico my home.