Aguascalientes Mexico 2014 Skulls Festival
20th Annual Festival de Calaveras in Aguascalientes
A City Founded in Hot Water
The city of Aguascalientes, is the capital of the state of Aguascalientes, and is located in the Bajio region of North-Central Mexico. Aguascalientes, which means "hot waters," got its name from the many hot springs that were found there, when city was first established in 1575. Today, with a population of around a million people, the modern city has become a center for international business, but it is still rich with history, making it a great place for tourism.
Birthplace of the Creator of Calavera Catrina
José Guadalupe Posada, the lithograph print-maker whose political satire cartoons produced the famous Dia de los Muertos character, Calavera Catrina, was born in Aguascalientes, in 1852. Today, his birthplace has become the central hub of Mexico's Day of the Dead celebrations, which are traditionally held on November 1st and November 2nd. His artwork, which often contains skeleton figures, has also become widely associated with the Dia de los Muertos holiday. Sadly, Posada passed away in 1913, relatively unknown, and it wasn't until nearly a decade after his death, that his artwork began to gain widespread notoriety. Ironically, the location of the skeletal remains of Mexican artist revered for his skeleton caricatures, remains unknown, since the artist, who was broke when he died, was buried in an unmarked grave.
Festival de Calaveras 20th anniversary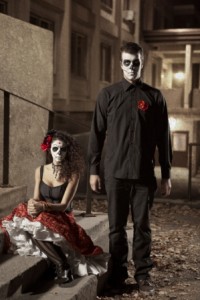 This year marks the 20th anniversary of the Festival de Calaveras in Aguascalientes. The festival begins on Friday, October 31st and continues through Sunday, November 9th. The festival draws many tourists, from all over the world, and is one of the most important annual events for Aguascalientes. This year's event is set to take place at the San Marcos National Fair grounds in Aguascalientes, next to the man-made lake, Lago de la Isla San Marcos, which is also close to the 115 foot tall, Tsunami roller-coaster. The event will include lots of family oriented activities, including: skull parades, art installations, live music, dance performances, theatrical presentations, and carnival rides!
Driving your Vehicle to Aguascalientes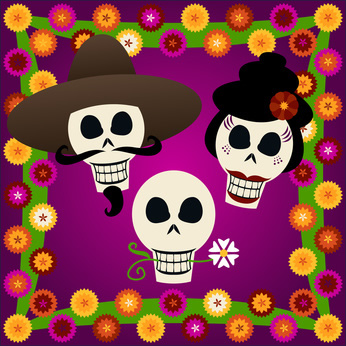 Aguascalientes is easy to reach by car, through its system of modern major highways, and it is located a little less than 500 miles from the international border crossing at the Laredo Juarez-Lincoln Port of Entry. Mexican automobile liability insurance is required for most late model vehicles to drive on Mexico Federal roadways, so don't cross the border without first securing coverage. It is also advisable to carefully choose a Mexico Auto Insurer, and not just buy the cheapest possible policy that you can find.