Coming to Mexico: Advice for Studying Abroad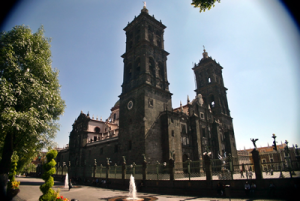 I'm afraid it's that time of the summer. The sunshine up north is at its precipice and now it's on the way out. And with the fall coming, that also means a new academic year. Luckily, Mexico also follows those academic traditions, which make it a great destination for prospective abroad studiers. There is a long list of highly accredited universities in Mexico that have tuition prices that are a fraction of the cost of US schools, plus the weather isn't that bad either.
Maybe you're interested in studying abroad, but your Spanish isn't quite up to snuff for college level courses in Mexico. Contrary to popular belief, not all colleges and universities are taught in Spanish. In fact, my previous employer (an international school) teaches all of its adult courses exclusively in English. I sat in on one of the teacher's training courses and it was all in my native tongue, but with a Mexican accent. I was the only native speaking student there. I like to feel special, and that's aspect of expat life I enjoy.
Maybe you are like me. You want to get a highly accredited university degree in English, but you also want to live, mingle and interact in a foreign country. I can promise you that, while there are English speaking universities in France and Germany, you can do it much cheaper in Mexico. You'd also be a great deal closer to home. You can even drive your own car to Mexico. I wouldn't recommend driving across the Atlantic.
To my fellow veterans and their dependents: here's a secret I wish I had known before I used up my GI Bill. There's a long list of approved colleges inside of Mexico that the VA will happily let you attend on the government's dollar. For people studying in colleges within the US, the cost-of-living payment has a sliding scale, and it's based on your zip code.
Someone studying in the Washington, D.C., or San Francisco metropolitan areas will obviously need more money to pay rent than say, a student in Fargo, North Dakota, or Amarillo, Texas. If you're using your GI Bill outside of the US, the monthly cost-of-living stipend isn't based on your host country, but instead it's based on a New York City zip code! I've never lived in the Big Apple, but I'm pretty sure you could live in Mexico in relative luxury on the NYC rent money alone.
Other students opt to just study for a single quarter, a semester, or an academic year. You may want to find a study-abroad program through your state-side institute of higher learning. I applied through my college to study Spanish and culture in Mexico for credit, but the school couldn't sponsor me; since the US State Department has been issuing travel warnings for Mexico, which creates a lot of red tape. I can assure you that many parts of Mexico are comparatively safe in relation to much of Latin America. You can petition for an exception if you can prove that you will be kept from harm. Oddly enough, the most elite university in Mexico is in Monterrey, which is considered a "DO NOT ENTER" area according to the State Department. While your college may not want to sponsor your study-abroad contract, I can assure you that if you find a good host family you will be just fine.
Do your research and find a good school if you want to live the Mexican experience while you improve yourself for your future and prepare for a career in your chosen path.