We've Made Our New Years Resolutions. Have you?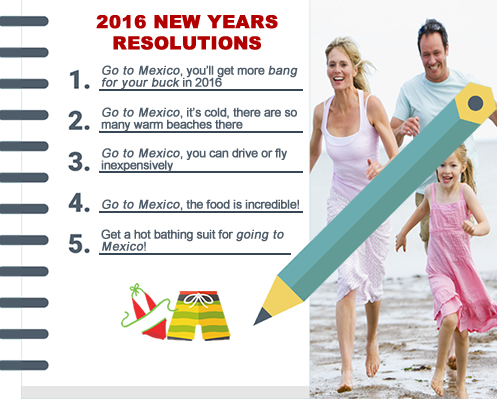 The New Year is closing in on us quickly and it's time to make your New Year's Resolutions. If you've not done so yet, Mexpro.com is here to help you out. We've come up with five we think are pretty good and that you will enjoy completing...
Go to Mexico, you'll get more bang for your buck. Several economic and financial forecasts predict the US dollar will get you more Mexican pesos during the course of 2016. This means you can do more in Mexico for less money. See our list of Important Info below to get the current peso exchange rate.
Go to Mexico, it's cold, and there are so many warm beaches there. No other country provides the abundance of warm beaches during the winter season—so close to home. Mexico not only has the Pacific and Atlantic Oceans on its Western and Eastern borders, but also has the magnificent Sea of Cortez (created by the Baja Peninsula) and home to sea life not found anywhere else in the world. On the Atlantic side of Mexico you can enjoy peaceful waters conducive to snorkeling and scuba diving. On the West Coast, fishing and surfing are popular activities.
Go to Mexico, you can drive or fly inexpensively. Gas prices have gone down, so it costs less to drive anywhere, so why not Mexico? In addition, flights are being added continually by various airlines to differing parts of Mexico from the US and Canada. Under Important Info below you can find a link to gas prices in Mexico (remember it's sold by the liter).
Go to Mexico, the food is incredible! Inland Mexico is famous for moles (sauces made from chocolate—not for dessert) and roasted Chapulines (crickets), to name a few. The sea provides a multitude of seafood options. In addition you can find taco stands that will satisfy your taste for more authentic versions of the Mexican food you eat in the states. From seafood to Mexican specialties, you won't be disappointed.
Get a hot bathing suit for Going to Mexico. This goes without saying…you want to look good while on the beach. However, you may have to add another resolution--to take off some of that Christmas goodies weight. Either way, you're going to have a good time.
New Years is a time for celebration! Celebrate in Mexico all year long! Have a wonderful New Year!