2014 Tijuana Fair
2014 Feria Tijuana at Parque Morelos
An arts an entertainment event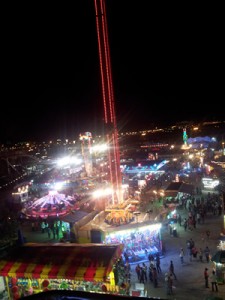 The 2014 Feria Tijuana ("Tijuana Fair"), an annual arts and entertainment event, will be held once again at Parque Morelos ("Morelos Park"), in the city of Tijuana, located in northern Sonora, Mexico. The Tijuana Fair will kick off this year on the 22nd of August, and continue through the 21st of September. During the month-long event, there will be a number of prominent musical artists, from all over Mexico performing. There will be free (with the cost of admission) performances at the Teatro del Pueblo ("Town Theater"), as well as ticketed events, featuring some very popular acts, at the adjoining Palenque de Tijuana venue. In addition to the live musical acts, there will be many vendors offering a variety of wares, artwork, crafts, and food. There will also be nearly three dozen carnival rides at the event.
The Tijuana Fair is the place to be
The annual event has become very popular, drawing many people from Tijuana, as well as numerous residents from surrounding border communities. The cost of a one day admission per adult is 60 pesos, while children can get in for 30 pesos. Along with admission, an entry ticket also gets you 15 free carnival rides, and entrance to the Teatro del Pueblo. The slogan for this year's fair is ¡DiverTIdisima! Loosely translated, it means "Enjoy yourselves to the utmost!" Whether you are into cotton-candy, midway games, carnival rides, shopping, or live entertainment, the Tijuana Fair, beginning in late August, is the place to be.
A short drive from the border
Morelos Park, the location for the Tijuana Fair, sits between Tijuana's El Trompo Interactive Museum and the Palenque de Tijuana. And, although the site is only a short 15 minute drive, from the international border crossing at San Diego, California, it is still important to purchase Mexico insurance for your U.S. or Canadian plated vehicle. Neither U.S., nor Canadian, liability coverage will extend across the border into Mexico, so you've got to be covered by a Mexico Tourist Auto Insurance policy (Mexico Vehicle Insurance). Mexpro.com has been providing unrivaled coverage for vehicles being driven into Mexico, for more than 15 years. The policies that they offer are underwritten by several of Mexico's most highly regarded insurance companies, including: El Aguila Great American Insurance, Grupo Nacional Provincial, ABA Seguros, and ACE Seguros. Visit Mexpro's website to get an instant online quote and  purchase your policy.