2010 Baja 1000 - "The Mil"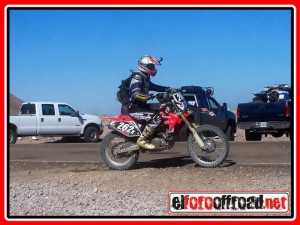 From November 15-21 Jess Maier and Torsten Palm, from Flagstaff, Arizona, traveled south of the border to Mexico to race in the 43rd annual Baja 1000 on a Honda motorcycle. The two area firefighters teamed up with four other riders, mostly firefighters from across the southwest, to race from Ensenada B.C. (Baja California) to La Paz B.C., Mexico.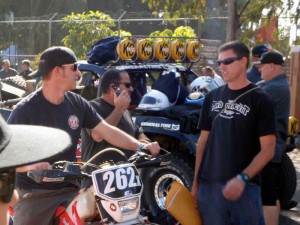 Race day comes early for the motorcycle racers in the Baja 1000. The motorcycle riders must start the race much earlier than other racers to keep them well ahead of the bigger vehicles and safe. The first motorcycle leaves the starting line at 6:30 am and the rest of the field follows one-at-a-time every 30 seconds.
The most exciting time for a racer is the time they approach the starting line and are wished well by Sal Fish, the race promoter and SCORE chaplain. Hundreds of thousands of race fans, young and old, line the race course for the first hundred miles or so cheering, taking photos and videos. Competitors race by fans with the intensity needed to focus on the difficult course.
In Baja this race is as important to its fans as the Super Bowl, NBA playoffs, or World Series in the U.S. The annual event draws fans from both the U.S. and across Mexico.
Torsten started the race, passing 25 bikes in the first 80 miles and put the team in 2nd place for their class for the first half of the race. As night fell there were problems. The lights on the bike did not work well and made for a long, dark night. As the sun slowly made its way up over the mountains the team got back on track, riding and finishing strongly in La Paz and securing 3rd place in the over-all point standings for the Sportsmans class. They expected to do a little better, but have more motivation for next season.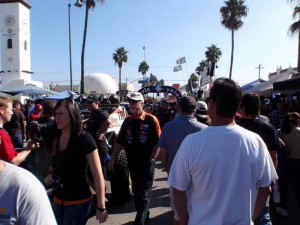 The team would like to thank their sponsors, friends and family who made the 3rd place finish possible. The following companies supported them through the 2010 season:
Shampa Clothing
Bridgestone Tires and Tubes
661 Race gear
Smith Optics
AXO Race Gear
Potts Racing
Northland Motorsports
Afradium Racing
The team said they had a great time in Baja, as they always do. There were no problems at the border, at checkpoints, on the roads, in the towns, anywhere. They were greeted with friendly smiles and lots of positive support on race day. Baja is a beautiful place, best enjoyed on a motorcycle (according to Jess & Torsten). They don't plan to stop going to Baja for races or for vacation anytime soon.
Pre-race story on the Mexpro.com blog.