The 13th Annual Rocky Point Rally - A Bilingual Biker Blogger's Perspective
Last Updated: November 27, 2013 by Mike Mercer
Categories: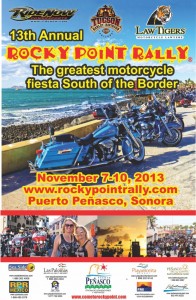 This story is a follow-up to Michael Motorcycle's Rocky Point Rally – "La Gran Fiesta de Motocicletas" – pre-Rocky Point Rally article.
Getting Ready for the trip to Mexico
When my boss asked if I'd like to attend the 13th annual Rocky Point Rally and represent Mexpro.com, I jumped at the chance to combine my lifelong passion for motorcycle riding with my professional occupation of promoting and selling Mexico tourist insurance. If you ask me, any work trip that involves going to the beach in Mexico, to attend a huge biker rally, is definitely considered a labor of love.
There was of course some prior planning and a little leg work that was required before I was able to make the trip down through Arizona and across the border into Mexico. However, I found that most everything I needed to know about, as I planned my trip, could easily be researched on the Mexpro.com website, and if it wasn't there, I added it.
The Road to Rocky Point
Along the way to Rocky Point, I stopped at a scenic roadside rest stop, to stretch out my legs for a bit. The view of the mountains and Red Rocks in the distance was quite nice, so I decided to take a quick snapshot. As I made my way back towards my motorcycle, a stranger from parts unknown, pointed in my direction and made the following remark to his travel companion: "See honey, there's a real cowboy, only he rides a mechanical horse!" As I looked at my leather riding chaps, square toed boots, and saddlebags, I thought to myself, 'he might have a valid point there.' As I climbed back onto my chromed steed, I couldn't help but think about that Bon Jovi song that goes "I'm a cowboy, on a steel horse I ride..."
Traveling on a motorcycle in the state of Arizona is definitely one of my favorite things to do. The state has some spectacular scenery with wide open views of vast expanses and varying terrain, along with picturesque mountains and vivid canyons. Making my way down from the Ponderosa Pines, along the Red Rocks and past the tall saguaro cacti was very enjoyable to say the least. I have to say that making the journey by motorcycle is far more exhilarating than traveling by car. To quote the back of a tee-shirt that I spotted during my trip, "Four wheels move the body. Two wheels move the soul!"
I picked up my poker run entry form and drew my first card at the Flores and Sons Chevron gas station in Why, Arizona, which is named for the "Y" intersection of highways 85 and 86. From there, it was only a short 30 minute ride south to the next poker run stop at the UETA duty free shop at the border, before entering Mexico.
Entering Mexico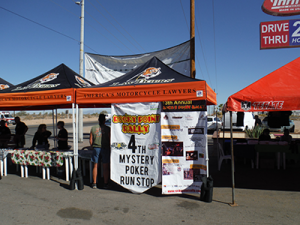 Getting into Mexico was a snap! As I rode up to the entry lane from Lukeville, Arizona into Sonoyta, Sonora, the agent indicated where he wanted me to stop. I pulled up, turned off my bike so the agent and I would not have to try and yell over the sound of my bike's drag pipes, and I was sure to put down my kickstand, so my hands would be free in case they asked me to show any of my paperwork. However, the only thing the agent asked was "where are you headed to today sir," to which I replied 'Rocky Point,' and then he waived me through and wished me a safe trip. There was no line when I arrived, so crossing the border into Mexico literally took me just a couple of minutes.
Not long after crossing the border, there was another poker run stop at Licores y Curios Vasquez in Sonoyta, Sonora. This was a great place to stop for a quick delicious taco and a bottle of water, before heading on to the next poker run stop in Puerto Peñasco. From the Vasquez liquor store, it was about another hour of riding, through the Gran Desierto de Altar, before I reached the outskirts of Rocky Point, where there were signs welcoming riders, and organizers standing on the side of the road, waiving all the bikers over to make a stop at the event registration booth. I picked up my fourth poker run card at Barclin's Circle K, paid the $10 registration/donation fee for the event, and also purchased a Rocky Point Rally tee shirt, so I could brag to all my buddies back home about where I had been. While at this stop, I noticed some bikers lining up to take advantage of the photo opportunity with the Tecate girls, so I snapped a quick shot too.
Dollars versus Pesos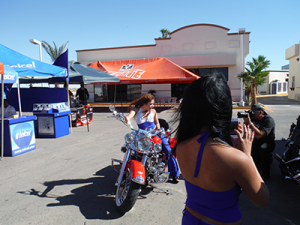 You can just as easily spend U.S. dollars in Puerto Peñasco, as you can Mexican pesos, and I found that most every store, restaurant, bar, and vendor had a small calculator at the ready, to help figure out the exchange rate. If you would like to know what your bill amount is in dollars, you can simply ask '¿cuanto es en dólares?' pronounced 'Kwan-Toe Es En Dole-Ah-Rez?' (How much is it in dollars?). I had both pesos and dollars in my pocket, so I had occasion to do conversions from dollars to pesos, and vice versa. The exchange rate was 12:1, or 12 pesos was approximately equal to 1 dollar, during my visit. It is best to have some smaller bills readily available, in case you encounter any vendors who are not prepared to make change.
Driving in Mexico
As I traveled south along Mexican Federal Highway 8 and through the streets of Puerto Peñasco, it quickly became apparent that operating a vehicle in Mexico is a little different, than what one might be used to back in the U.S. or Canada. Be sure to watch for hidden stop signs, sometimes they may be on the left hand side of the road, instead of on the right hand side. Some signs may also be a little sun faded, which can make them more difficult to see. Most traffic signal signs will have similar shapes and imagery that you'll probably already be used to, but there may be some signage that you may not easily recognize, unless you also understand some basic Spanish. Read our "Before You Go" page on Mexpro.com to see examples of common road signs in Mexico.
Accommodations in Puerto Peñasco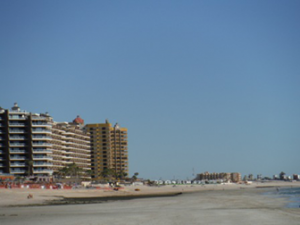 There are lots of great places to stay in Rocky Point, with many of the bigger resorts located right along the beach. I stayed at the Princesa De Peñasco Condominium Resort, and the view from the condo's balcony was nothing short of spectacularly breathtaking! The hot pink colored bougainvilleas cascading below the balcony railing, helped to frame the scenic vista of the palm trees and swimming pools dotting the short path leading out to the sandy beach, and then continuing into the distance where the ocean finally met with the sky. It didn't matter if it was sunrise or sunset, afternoon or the middle of the night, the view was simply awesome at any time of day.
The Agave Bar and Grill, located on the grounds of the Princesa de Peñasco Condominiums resort, was my favorite little place to unwind, have a drink, get a bite to eat, and enjoy some great conversation, after a long day of motorcycling and fun in the sun.
All day long and into the wee hours of the morning, you could hear the rumble of motorcycles, as bikers came and went. If you are at all like me, you might actually enjoy the loud braaaap sound of motorcycle engines. However, in the middle of the night it can be somewhat bothersome, so I would recommend bringing along a set of foam earplugs to help you sleep more peacefully as the late night riders continue to pull in.
Rocky Point Rally Kick Start Party at Playa Bonita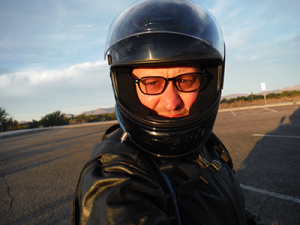 The Rocky Point Rally kick start party was held at the Puesta Del Sol Restaurant, located at the Playa Bonita resort. I got there a little early, so I could get dinner before the festivities got underway. There was a friendly attendant, out in the sandy parking, handing out small square pieces of wood to put underneath the motorcycle kickstands, so they wouldn't sink into the sand. I chose to dine out on the patio, where I could enjoy the ocean breeze and watch the sun set into the ocean. The drinks were cool, the food was delicious and the surroundings were perfect. As the sun slipped lazily into the sea, the party got started with the local band, Agua de Coco, performing many classic rock favorites, including a Spanish rendition of Elvis Presley's, Jail House Rock, where the chorus "Everybody let's rock!" became "¡Todo el mundo bailar!"
The following evening, the poker run turn in event was also held at the Puesta Del Sol Restaurant. This time the the musical entertainment was provided by the Mesa, Arizona, band, Sour Diesel Trainwreck. This group is quite eclectic as far as musical genres are concerned, easily switching between country, classic rock, and they even had occasion to bust out with a metal medley that included a little bit of Metallica mixed in with some Iron Maiden. They kept the party and the dancing going for hours.
Stay Tuned for the Continuation of Michael Motorcycle's adventures at the 2013 Rocky Point Rally next week!!